About Trekking in Nepal With Kids
Trekking in Nepal With Kids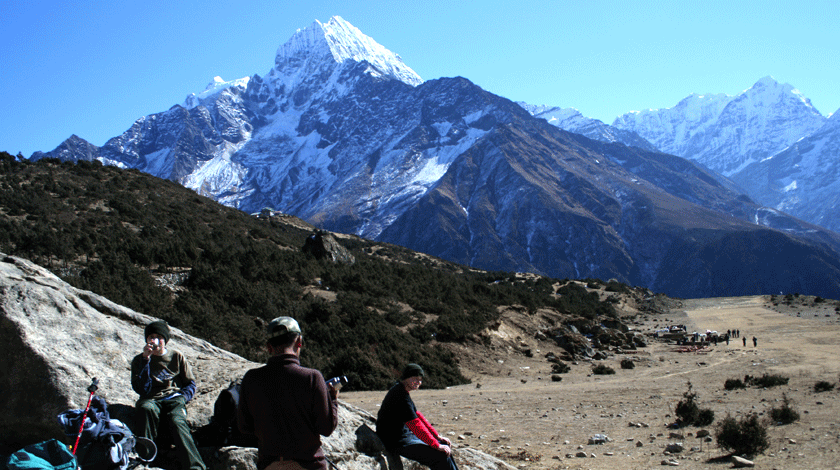 Trekking in Nepal with Kids
Trekking In Nepal with Children-kids, Nepal wilderness trekking PVT Ltd. provides you perfect vacations with your family and kids.
An adventurous keenness trip to Nepal so you will not be suppressed Trekking In Nepal with kids in any way just because you are a parent and have a family, still you can freshen up your mind and soul by taking up a family adventure tour-trekking with kids in Nepal, In fact it's important that you include your kids in your adventure trek in Nepal, so that they can explore the other world outside their home.
There is no contrary that things will be different and changed, but with clear tactics, you can handle both your family and your requirements.
It will give a fantastic opportunity to visit Nepal and do trekking with your kids to come across with different cultures, languages, scenery, diversity and ways of living Nepalese life.
Nepal offers plenty opportunity to track the great treasures of rich Nepalese culture and traditions. stay to vast alpine regions of Nepalese Himalaya with your family and children, it is an amazing opening to explain your kids to Nepalese cultural diversity, and to gain greater insight into this embroiled, resplendent, spiritually rich heritage side of Nepal.
Trekking In Nepal with kids
With your family, every trip will be unique in itself and every new place will offer its own incredulity and characteristics. Trekking in Nepal with your family and kids has an explosion to New World – welcome the essential changes of this new phase in your life as a parent.
It is irrespective of where you are going on your family adventure trip, what is most important is the element of travel with kids is an explicit patient attitude.
On your trip with the family, remember that this is your recreation time and you are all here to have fun and enjoy with nature, ecosystem, cultural and magic Himalayan.
It is not sufficient to calculate many of the diligent situations you may come across out of your home with children, as they are recklessly receptive to moods and feelings. Their feelings and mood too much extent depends on your mood, if you are having fun, they too will.
Kids love Hiking with goads or some domestic animal with as they enjoy so much
Nepal Family Adventure Destination
Family adventure sojourn to Nepal, assist you exploring the hidden Himalayan valley treasures of Nepal from lowland to highland top of the world Mt. Everest 8848 m, Himalayan, where exotic temples and majestic monuments combine with traditional rural villages Himalaya and bustling metropolitan in contrast, with the harmony of wildlife reserves, to bestow a pristine portray of the mortal and immortal. Taking up a family adventure trip to Nepal is just exciting. Meet the people of Nepal and experience the new world, explore some of Nepal's most famous sights and luxuriate in the overnight jungle safari trip to the Chitwan, enjoy wildlife at various wildlife parks and sanctuary and learn the skill of making traditional crafts of Nepal.
Going for an adventure tour with your family is the great value and a great way for you and your children to meet new people! While itineraries are pre-planned there is also flexible and you'll have plenty of time to yourselves.
Normally the kids tend to be aged between 7 and 15, also kids of age 5 can take up adventure tours and some older ones, perhaps travelling as a part of a larger family group.
Special Tips for Family Adventure
Take care of children's food and diet, as their bodies are quite sensitive to different varieties of food.
Check the availability of nearby doctor or a registered nurse at the place of your stay.
If you are staying in a hotel having a pool facility, make sure that the pool has a shallow end or separate toddler's pool, lifeguards on duty and the enclosed boundary at the pool.
If the child is very small, be assured to have a babysitting facility on your family adventure tour otherwise full time you have to hang up with the little toddler.
While indulging in any of the adventure activity make sure your child is safe and comfortable, don't force upon any activity on your child especially, in which they show hesitation.
First, learn more about Nepal and Choose a hike that is short and with a destination that would be interesting to a small child.
Kid's interest: Mountain, animal of jungle safari, local kids and water is quite eye-catching for kids,
Flexible: Don't plan high destination hike that you ignore the signs your child is ready to turn around. To create a lifelong hiker, you want his or her first experiences to be good ones.
cost detail for kids at any Trek: trip cost for kids 7 – 8 – 9-year-olds 10% discount, 4 – 5 – 6-year-olds kids 20% discount, below 4-year kids is the complimentary trip, but, extra cost for the extra porter to carry him or her.
Pack extra clothes: Always bring a jacket, hat and an extra set of clothes.
Stop often for energy breaks – Food and water can be a great reviver and motivator.
Pack a lot of patience and praise – It's all about the journey, so let them explore every corner and cranny while at the same time praising them for their little activities.
Main Family Adventure Regions in Nepal
a trip to kids /family in Nepal is wildlife national parks Chitwan, Kathmandu valley sightseeing, Langtang Trekking, Everest base camp, Annapurna base camp, Annapurna Ghorepani trek for the tea house, for camping is Ganesh Himal trek giving magnificent pleasure to young ones.
NOTE: Some higher-grade trekking trips are not advised for children below 6years. Normally, travelling with small children is not advisable at the higher elevation above 4000m. These virtually leave certain risks like high altitude sickness as well as other high altitudinal symptoms and even turn to be fatal.
But, especially for children, we have designed some wonderful trips. The trips package we have planned are relatively short and don't go too high. We encourage you to set your own leisurely pace while trekking and we don't let your children getting fed up while on a trek.
High altitude sickness is fatal altitude problem but can be checked by acclimatisation. A large fluid intake is a factor that greatly helps in acclimatisation. Great care, nutritious food will be provided. Team staffs are always ready to support them and make arrangement to shoulder them on whenever they feel exhausted during trekking period. For trip further info.