Tsum Valley Trek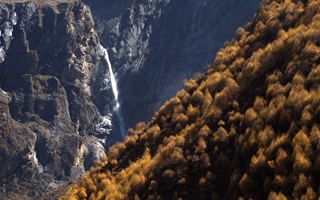 Tsum Valley Trek is an extraordinary dynamic destination with rough vertical nature routes located at the altitude of 1905 to 5093 meters. Also, it is popularly known as the 'Hidden Valley which possesses Buddha Himal and Himal Chuli to the west, Ganesh Himal to the south and Sringi Himal to the north. The Tsum Valley includes two isolated villages development committee Chhekampar (Upper Tsum) and Chumchet (Lower Tsum).
Tsum Valley Trek associated with Tibet and the natural beauty spotless, culture, People here are mostly of Tibetan origin and speak a distinctive dialect. Trails are scattered with many walls made of thousands of stone slabs carved with deities and prayers. The Tsum Valley has a long history of Buddhism.
Tsum Valley Trek is typically called as 'Tsum Tso Checksums' which means thirteen regions ruled as a single territory. This valley is rich in prehistoric art, culture and religion. People in Tsum Valley still practice polyandry system and they have their own unique culture, tradition, and language.They celebrate the unique festival like Lhosar, Dhacyhang, Saka Dawa, Fanning and others. Other major attractions along the Tsum valley contain the village of Chhekampar with its stone houses, slate roofs and Milarepa's cave, the monastery at Mu Gompa and Rachen Gompa to the south, Gumba Lungdang and much more. Besides, the region includes vegetations like barley, maize, buckwheat and potatoes. While it is home to wildlife including Himalayan Tahrs and Jharal (blue sheep) preyed on by snow leopards.
Nepal wilderness trek attempts to provide you observe the beauty and explore the unique culture and traditions of Tsum Valley trek. more info and itinerary 
Leave a Comment