About Everest Base Camp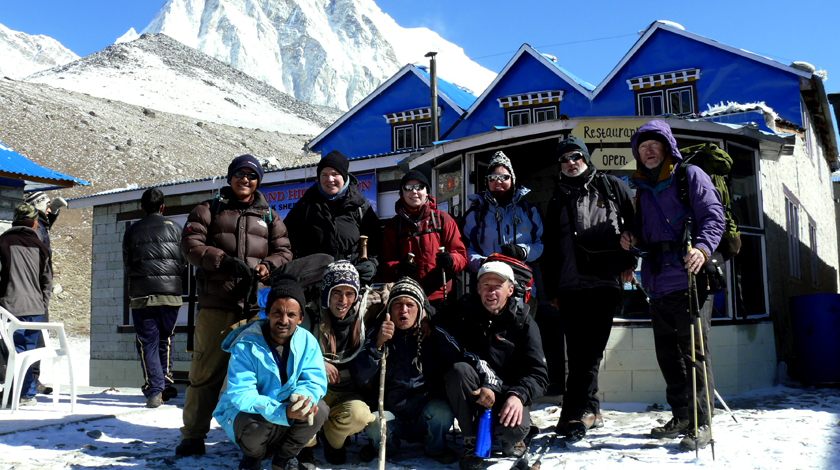 About Everest Base Camp
Everest Base Camp Trek is your adventurous trekking destination which lies in Khumbu Region. Mount Everest that is the highest Peak of Earth is at an elevation of 8848 m. There are two base camps on each side of Mount Everest. In an altitude of 5364 m, South Base Camp inside Nepal and North Base Camp is located in Tibet at an elevation of 5150 m above sea level. These base camps are the intersection for the Mountaineers to visit Mount Everest. Among both base camps, South Base Camp is famous for trekking routes to the Himalayas. Picking the peak season in annually people from several Parts of the world visit Nepal particularly for travelling Everest Region.
A lot of people have lost his life during trekking and mountaineering in this area. Everest Base Camp Trek isn't hospitable place anymore. Temperature is always a problem for trekkers. Temperature drops by 0.65oC per 100 meters of height. Mountain illness is the greatest Risk to Everest Base Camp trekkers and the fresh travellers. Our body requires lots of time to accommodate the changing environment that results in altitude illness and affect our health in several ways because of which we can't complete our trip. Weather inside this area is always surprising that turns simple and sunny rise really dreadful. We need to be ready for the worst case situation.
Wind is cold that has the capacity to freeze our blood that results in hypothermia. Thus, we must upgrade our self-based on weather prediction to avoid risks while trekking. Records show the death of trekkers and climbers due to falls. Trekkers aren't concerned about the routes and due to their careless on of the high ridges accident might happen. During the night we must run the risk of stepping out for no reason without precautions and safety because ground covered with ice is sufficiently good to slip and cause death because of falls. We must fear of dehydration due to high altitude.
Our body requires enough water to keep hydrated and prevent health issues like a headache, nausea and altitude sickness. Lack of oxygen can also result in the same health risks and short of breaths. At higher altitudes and elevations these signs are extreme and our body couldn't function well because of excessive blood circulation to the brain. At very high elevation we can experience Avalanches. There are specific areas wherein the occurrence is higher. The survival rate is very low if it happens during the night.
In addition, falling ice and rocks would be more hazards equally Avalanches. At the time of trekking we can get hit by of the big rocks otherwise might create obstacles on our way. Sudden death might occur or can cause serious injuries that will not let to continue the trek.
itinerary and planning  details 
Leave a Comment