Raniban Home Stay
Kathmandu City View Raniban Homestay with Nepali Local family to experiment real life of Nepal and Clear skies – stars night view, away from crowded city and pollution, Warm hospitality stay with local Family.
Raniban homestay is 4 KM North West from tourist hub Thamel, 3 KM north from Monkey Temple. The home is close to Nagarjuna national park green forest. Our house is also a peaceful place with a few nervous hoods purely a residential area and not a commercial place. However, grocery shops are available nearest the home.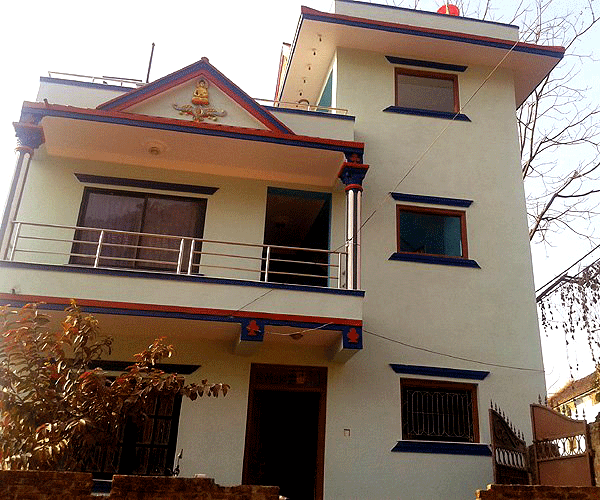 Raniban Homestay has five guest rooms with 24 hours hot and cold solar showers and clean bathrooms. Free and super fast wi-fi. We do not have a menu system at home. However will serve you the typical Nepali meals for your dinner, lunch, and breakfast. We have a lovely living room with a guest use computer and LED screen TV. Homestay is the alcohol-free place; each room has a balcony. At night crystal clear blue sky star views and bright lights city view from the rooftop of Home.
Nagarjuna Hills 2128mtr. 2 hours 30 minutes hike from our home, Nagarjun Hill is one of the closest hills to Kathmandu, Nagarjuna was named after a trendy Holy man (Mahasiddhas) called Nagarjuna who used to stay here and do long hours of meditation. We can still see the Nagarjun Meditation Cave and explore the surroundings. There is an old small Buddhist Stupa on the top of the hill. From the Top of Nagarjuna, you can see 360-degree views of Kathmandu valley and its surrounding mountains. Every year, people celebrate festivals at the stupa on Buddha's birthday.
How far from the Airport?
From the international airport to Homestay is 9.6 kilometers and it takes 40-minute driving distance, from Thamel to Homestay is 4 kilometers and 18-minute drive by car.
How much for Homestay cost per night?
Stay with Local Family Home cost is $20 per night per person, with bed and breakfast without tax and service charge, Dinner is $ 5, and lunch is $ 5 per person.