About Peak Climbing
Peak Climbing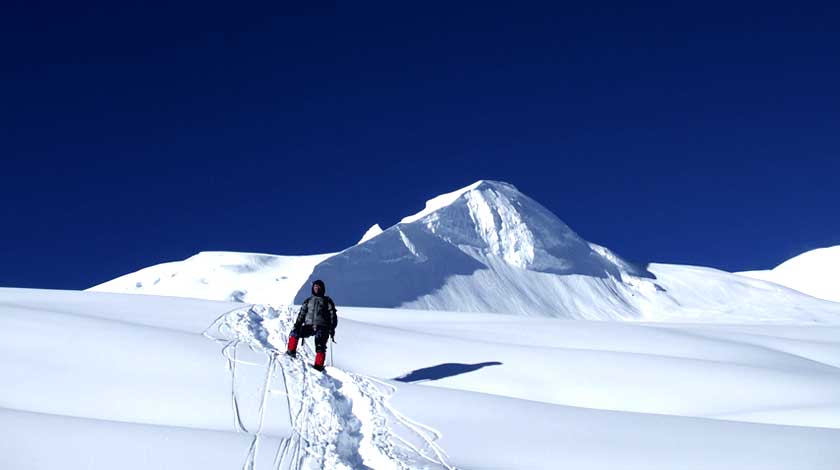 Peak Climbing
Peak climbing in Nepal is 1,312 mountain peaks that have over 5,000 Miters high, the tallest mountain in the world is 8,848 m. Which is every human know the name:- Mt. Everest. These Himalayas makes a beautiful Country and always welcoming for mountaineers.
Nepal has eight mountains over eight thousand meters high.
The over 8,000 m mountain Names are:-
Everest 8,848 m
Lhotse 8,516 m
Makalu 8,481 m
Cho Oyu 8,201 m
Dhaulagiri 8,167 m
Manaslu 8,156 m
Annapurna 8,091 m
Kanchenjunga 8,586 m
Additionally, there are 1,300 mountains higher than 6,000 m. among them, nearly four hundred summits have received the authority of licenses from the Nepal Mountaineering Association NMA List.
| | | | | | |
| --- | --- | --- | --- | --- | --- |
| S.N. | Name of Mountain | Height (m.) | Himalayan Range | District | Caravan Route |
| 1. | Mt.Cholatse | 6423 | Mahalangur | Solukhumbu | Lukla-Namche-Pheriche-BC |
| 2. | Mt.Kyazo Ri | 6151 | Mahalangur | Solukhumbu | Lukla-Namche-gokya-Bc |
| 3. | Mt.Nirekha | 6159 | Mahalangur | Solukhumbu | Lukla-Namche-gokyo-BC |
| 4. | Mt.Langsisa Ri | 6412 | Jugal | Rasuwa | Dhunche-Lantang-Langshis-ABC |
| 5. | Mt.Ombigaichen | 6340 | Mahalangur | Solukhumbu | Lukla-Namche-Gokyo-BC |
| 6. | Mt.Bokta | 6114 | Kanchenjunga | Dolakha | Charikot-Simigaon-beding-BC |
| 7. | Mt.Chekigo | 6121 | Gaurishankar | Dolakha | Charikot-Simigaon-Beding-BC |
| 8. | Mt.Phari Lapcha | 6017 | Mahalangur | Solukhumbu | Lukla-Namche-Machermo-BC |
| 9. | Mt.Lobuje West | 6135 | Mahalangur | Solukhumbu | Lukla-Merala-BC |
| 10. | Mt.Larkya Peak | 6416 | Manaslu | Gorkha | Gorkha-Samagoun-Lamjung Bc |
| 11. | Mt.ABI | 6043 | Mahalangur | Solukhumbu | Lukla-Khumjung-Gokyo- Abi BC |
| 12. | Mt.Yubra Himal | 6048 | Langtang Himal | Rasuwa | Dhunche-Legberi BC |
Group "B" NMA Climbing Peaks
| | | | | | |
| --- | --- | --- | --- | --- | --- |
| S.N. | Name of Peaks | Height (m.) | Himal | Region | Route |
| 1. | Shigu Chuli(fluted peak) | 6501 | Annapurna Himal | Gandaki | ktm-pokhara-Tilkedhunga-Ghorepani-Tadhaani |
| 2. | Mera Peak | 6470 | Khumbu Himal | Sagarmatha | ktm-jiri-shivalaya-Bhandar-sete- junbasi-nunthala- kharikhola-poyanbung-chadrabu- kothe-thangna-khar |
| 3. | Kusum Kangru | 6360 | Khumbu Himal | Sagarmatha | ktm-lukla-namcheThame-Khumjung-B.C. |
| 4. | Kwangde | 6086 | Khumbu Himal | Sagarmatha | Ktm-Lukla-Merala-Randimng-Hunde-B.C. |
| 5. | Chulu West | 6419 | Manang | Gandaki | Ktm-Besisahar-Ngadi-Jagat-Dharapani |
| 6. | Imja Tse(Island Peak) | 6165 | Khumbu Himal | Sagarmatha | ktm-Lukla-Namche-Tyangboche-Pangpoche-Dingboche-chhukang-B.C. |
| 7. | Pharchamo | 6279 | Rolwaling Himal | Janakpur | Ktm-Dolkha-siguti-jagat-simigaon-Chagebukharka-Beding-Na-B.C. |
| 8. | Lobuje | 6090 | Khumbu Himal | Sagarmatha | Ktm-Lukla-Namche-Thame-RermoPokhari-Gokya-dzonghla-B.C. |
| 9. | Ramdung | 5900 | Rolwaling Himal | Janakpur | Ktm-dolkha-Siguti-GongerDoranangbu-Beding-Na-Kabung-Kydug-Kongma-Drolmaban- Tashi Lapcha-B.C. |
| 10. | Pisang Peak | 6091 | Manang | Gandaki | Ktm-Beshisahar-Bahundanda-Chamja-Bagarchhap-Chame- Pisang B.C. |
| 11. | Khongma Tse(Mehara Peak) | 5849 | Khumbu Himal | Sagarmatha | Ktm-Lukla-Namche-Dole-Mechermo-gokyo-Dughala-B.C. |
| 12. | Ganja-la Chuli(Naya Kanga) | 5863 | Langtang Himal | Bagmati | Ktm-Dhunche-Sysbru Goan- Lama hotel-Kyanjin Gomba-Ganjala B.C. |
| 13. | Paldor Peak | 5903 | Langtang Himal | Bagmati | Ktm-Dhading-Ankhu khola-Rigaon-JAralang-Sertung-Krarka-somdang |
| 14. | Hiunchuli | 6434 | Annapurna | Gandaki | Ktm-Pokhara-Chomrong-Bamboo-BC |
| 15. | Chulu East | 6584 | Damodar | Gandaki | Ktm-Beisahar-Ngadi-Jagat-Dharapani-BC |