Kathmandu To Phaplu Bus-Jeep
Kathmandu To Phaplu Bus-Jeep
Kathmandu To Phaplu Bus-Jeep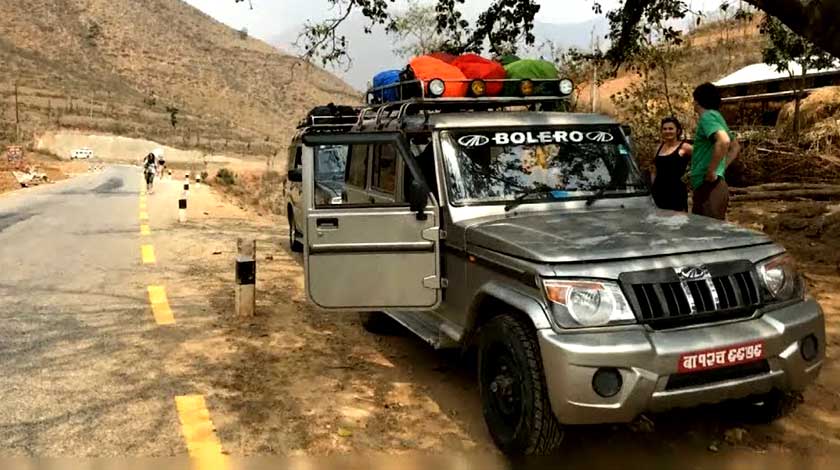 Jeep Tickets provider to Phaplu and Bupsa- close to Lukla
Kathmandu to Phaplu bus or jeep is one of the easy accesses when the flight is delayed due to bad weather in Lukla, there are better options take jeep tickets and drive to Phaplu or Bupsa and start your trek to the Three passes Trek or Everest Base Camp trek.
The private Jeep hire from Kathmandu to Solukhumbu Salleri is $310.  and Bupsa is $540 and begin your trek. Nowadays is Jeep running Kathmandu to Bupsa directly, the Bupsa is close to Lukla, so just 5 hours hike from Bupsa to Lukla. But in the future, there are planning roads from Kathmandu to Lukla bus,
The Daily departure sharing Jeep Tickets is $25 per person,  and pick up cost is $5 per pax, from Kathmandu to Phaplu, and Kathmandu to Pupsa Jeep tickets is $45 per person, and pick up cost is $5 per pax. the Jeep will pick you up in your Hotels, wherever you stayed in Thamel, so we do provide the Daily sharing Jeep Ticket for an individual – group trekkers from Kathmandu to Phaplu or Bupsa.
Kathmandu to Salleri-
Lukla Bupsa / Thomdanda distance
When searching for an alternative to the Lukla flight, the Kathmandu- Salleri Jeep will be your only option for getting to Everest Base Camp, as Kathmandu to Salleri has a distance of 267.9 kilometres. Salleri to Lukla road distance is 24  kilometers (from Salleri to Andheri, Andheri to Kharikola/Bupsa, Bupsa to Chaurikharka). There is a road between Kurkot and Salleri known as the Everest Express Road due to the amazing views of Mt. Everest. 
We also provided experience guides and porters from Phaplu or from Bupsa to Everest base camp trek; we have the local guide and porters who always work with Nepal Wilderness Trekking Company from Bupsa, Phaplu, Jiri, and Lukla.
So, if you are searching for the cost-of Jeep, bus, guide, and porters, then we are here for your help to make an easy journey for your Everest base camp trek.
Here are the lists of the cost details services.
Guide wage

$30

per day.
Porter cum guide wage

$25

per day.
Porter's wage

$22

per day.
Sumo Sharing Jeep Ticket

$25

per person to Salleri-Phaplu.
Sumo Sharing Jeep Ticket

$45

per person to Bupsa close to Lukla.
Pick up from your place /hotel

$5.

per person

Hire private jeep cost Phaplu

$310.

per jeep

Hire private jeep cost Bupsa $540.

 

per jeep

Kathmandu to Phaplu flight tickets cost

$160

per person.
Kathmandu to Lukla flight costs $180 per person.
Ramechhap to Lukla flight tickets is

$149

per person
Here are our Contact details Form, Cell Number / Viber / whatsApp+9779849693351. For Jeep Tickets booking, Guide or Porter Guide contract. Also, the Office Locations Maps make it accessible to visit us and chat about your requirements.
---
Leave a Comment