Bikram Tamang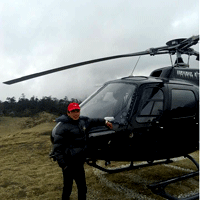 My name is Bikram Tamang, and I was born in the breathtaking Solu Khumbu region of Nepal. Since 2010, I have been working as a porter cum guide, primarily based in Lukla, which serves as the gateway to the Everest Region.
Throughout my career, I have had the privilege of exploring the Everest Region extensively. I have successfully traversed challenging terrains such as the Chola Pass, Renjo La Pass, and Gokyo Valley, and reached the iconic Everest Base Camp. These experiences have enriched my understanding of the region and honed my skills as a guide.
I would like to express my gratitude towards Nepal Wilderness Trekking (NWT) for providing excellent support and opportunities to guides and porters. NWT ensures that we are well-equipped with the necessary gear and provides fair wages, which is a testament to their commitment to our well-being. As a result, I am proud to be one of the few guides working with NWT from Lukla during the peak trekking season.
The satisfaction I have derived from working with NWT is immeasurable. Their professionalism, dedication, and emphasis on the welfare of their staff have made me feel valued and respected. I am genuinely grateful to be associated with such a reputable agency.
In conclusion, I extend my heartfelt appreciation to NWT for their unwavering support, and I am honored to represent them as a guide. Thank you for giving me the opportunity to be part of this incredible journey.
Sincerely, Bikram Tamang