Bire Gurung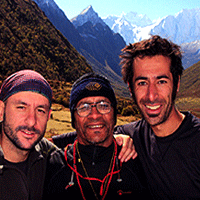 Namaste!
I am Bire Gurung, originally from Chitwan. I have been working as a guide in the Nepalese Himalayas since 1993, and my passion for this career has not waned over the years. While many of my colleagues have retired from guiding, I still find immense joy and fulfillment in leading treks and climbing expeditions in the Himalayas.
Being a guide has become an addiction for me, as I continuously seek opportunities to guide our customers through the stunning landscapes of Nepal. Witnessing the satisfaction and fulfillment of our customers as they achieve their trekking goals brings me even greater joy and contentment.
Throughout my career, I have had the privilege of exploring and guiding in almost all trekking regions of Nepal. Among them, the Jomsom Muktinath trek, Kathmandu Pokhara tours, Nagarkot Chitwan, and Chisapani hold a special place in my heart.
If you are in search of an experienced guide who is dedicated and trustworthy, look no further. Don't hesitate to pack your bags and embark on your trekking or climbing journey with Nepal Wilderness Trekking (Pvt) Ltd. I am here to lead you and help you achieve your goals with utmost care and professionalism.