Kumar BK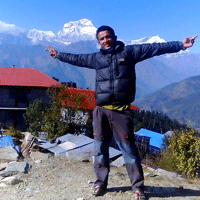 My name is Kumar Bk, and I come from Chalish Village in the Dhading district, I am currently working at Nepal Wilderness Trekking Agency. Back in 2012, during my college studies in Kathmandu, I had a summer break, and I had the opportunity to work as a trekking porter for Nepal Wilderness Trekking Agency.
That experience sparked a deep interest in trekking and a strong desire to learn about the various highland trekking destinations, cultures, and trails of the Himalayas. Over time, I dedicated myself to gaining extensive knowledge and experience in order to become a fully qualified guide for all the trekking destinations in Nepal.
Now, I proudly serve as a knowledgeable and experienced guide, providing guidance and support to trekkers in the diverse and beautiful landscapes of Nepal.