Suk Bahadur Ghale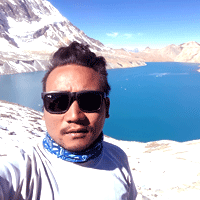 Namaste! (Warm greetings in Nepali)
I am Suk Bahadur Ghale, born in the northern part of Kathmandu, nestled in the embrace of the majestic Ganesh Himal. My childhood was spent in Kathmandu, where I resided in boarding school hostels. After completing my intermediate education in Management, I embarked on a journey into the world of tourism.
In 2009, I began my foray into the field as a volunteer with an international non-governmental organization (INGO) called HHC. This experience sparked my passion for trekking and inspired me to pursue it further. In 2014, I obtained my trekking guide license from the Nepal government, a milestone achieved through the auspices of TAAN (Trekking Agencies Association of Nepal).
Since then, I have been fortunate to explore and experience the renowned trekking trails of Nepal. Trekking has become not only my profession but also my greatest passion. The beauty and grandeur of the Nepali landscape, coupled with the rich cultural heritage that adorns the trails, have captivated my heart.
For the past five years, I have had the privilege of working with Nepal Wilderness Trekking Agency, an esteemed organization dedicated to providing exceptional trekking experiences. It is my honor to extend a warm and sincere welcome to our esteemed clients from all corners of the globe. Join us at Nepal Wilderness Trekking, and together we will create memories that will last a lifetime.
I am committed to ensuring that your trip to Nepal is nothing short of extraordinary. With my knowledge, expertise, and genuine love for the mountains, I will accompany you on a journey that will leave an indelible mark on your soul. Whether you choose to trek through the mesmerizing trails of the Annapurna region, the Everest Base Camp, or any other iconic destination, I will be by your side, sharing my insights, ensuring your safety, and providing a truly immersive experience.
Nepal is a land of wonders, where natural beauty and cultural diversity intertwine to create an unparalleled tapestry. Allow me to be your guide as we explore this enchanting country together.
Once again, I extend my heartfelt welcome to Nepal Wilderness Trekking. Let us embark on an unforgettable adventure that will etch itself into your memory forever.
Namaste and see you soon in Nepal!
Suk Bahadur Ghale