Agnieszka K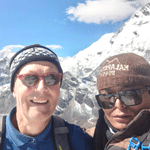 Everest Three Passes Trek from Bupsa
In April of this year, my husband and I hired a guide from the agency, Mr. Makaraj Tamang. We had a great time. Mr. Himal, the owner of the agency, answered all of our online questions quickly and efficiently. He was also very helpful on-site. In addition, he respected our "independent trekkers" attitude. It was highly appreciated that he did not try to upsell us services we did not need, so thank you Himal, and 5 stars for not being pushy.
Mr. Makaraj was very knowledgeable and talkative. We learned a lot about Nepal's culture. During the snowstorm, he walked us through glaciers like it was a stroll in the park on Sunday. He made us feel safe. Thanks for making our trip enjoyable.
I had a great time on the trek. It was likely caused by a pandemic, but to be alone at all the peaks was amazing. This trek is well worth trying even during crowded times since it is so breathtaking. Nepal Wilderness Trekking and Makaraj as a guide are highly recommended.