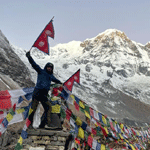 The trek to ABC was a great five days
While preparing it, the communication with Himal at the office was always timely and clear. They suggested treks at a reasonable cost on fixed dates.
Once on the trek, we were well taken care of by our guides Bhabiraj and Robin, who worked with us as a team, assessing the difficulties and adapting to the weather conditions, offering us fruit and hot tea.
Despite the rain at the beginning of October, we enjoyed the beauty of the landscapes with waterfalls everywhere, even the fog that veiled the great mountain. We achieved our goal and were very happy with the experience.
I greatly appreciate your assistance