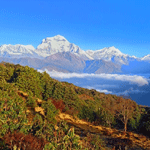 Outstanding in every respect
Yakub and Silas guided us on the Ghorepani / Poon Hill trek in October 2022, and we thoroughly enjoyed the experience. A trek of this length is an excellent choice for those who wish to immerse themselves in the Himalayas and have limited time. Despite the challenge, parts of the course were not unachievable or too long. The scenery and environment were simply breathtaking and I strongly recommend visiting the Himalayas at least once in your life!
The trip was made extra special and memorable by Yakub and Silas. As knowledgeable guides and attentive hosts, they were excellent from start to finish.
Throughout the trek, we were well taken care of, made to feel comfortable, and given an excellent understanding of Nepalese culture as well as the environment we were trekking in, and the history of the country. There were many other guides during our stay, and this only served to reinforce how fortunate we were to have Yakub and Silas as our guides. They went above and beyond to make our stay as enjoyable as possible. Therefore, a thank you is well deserved.
A trek such as this is something very special and we could not have picked a better company, from the responsiveness of the booking process to the experience and attentiveness of the guides. By the end of the trek, we were simply hiking with our new, close friends. It would be impossible for us to recommend this trek or company more highly to anyone interested in exploring Nepal.