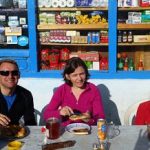 Ghorepani Poon Hill Trek
Searching hours on the internet; we found Nepal wilderness treks, and we are so grateful we did booked the trek with them.
They planned a fantastically rich and varied tour of Nepal for our family of 3, including our daughter Meg who is 10. After two days resting and sightseeing in KTM, we travelled to Pokora for the start of a 9-day trek including Poon hill, part of the Annapurna circuit, hot springs and lots of Dal Bhat. That was made even more special by our Guide, (Purna) and Porter (Mann) who played cards, did tricks and Nepalese games.
Their attention and friendship made the trip for all of us but especially for Meg. After the trek, we stayed in Pokhara for a few days canoeing, and even paragliding (frontier paragliding) which was fantastic and a must do. After that, we had the safari in Chitwan and 2-day excursions to Nagarkot.
All of which were brilliantly coordinated by Himal. The transfers and traveling in Nepal is made so easy by his organization. We were impressed by the accommodation we stayed in The food and hospitality in Nepal are second to none, and I thoroughly recommend Nepal and Himal and his team; it was indeed a holiday of a lifetime!