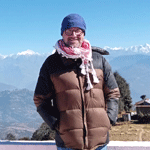 Great trekking operator in Nepal
I am very impressed with Himal and the Nepal Wilderness Trekking. During December/January 2023, I completed the Indigenous Walking Tour with guide Milan.
After landing in Katmandu, I made a last-minute decision to begin the trek the next day. Himal was an excellent communicator and extremely supportive. He ensured that I had the appropriate equipment for the conditions, and is a calm and trustworthy individual. In terms of trekking, I would recommend his expertise and judgment.
If you are interested in off-the-beaten-track excursions, the Indigenous Peoples Trek is a wonderful experience. Having a reasonable level of fitness will make the trek more enjoyable. The walking is moderate. Milan was an enthusiastic and cheerful guide. His company was enjoyable. The homestays are very traditional and rustic, and each had its own unique charm. Every night, you should prepare Dal Bhat.
It was extremely cold at night, and the right equipment was imperative. This is a trip that I would recommend, especially during the warmer months. Dec/January trekking has the advantage of having the mountains to yourself.