About Trekking in Nepal
Trekking in Nepal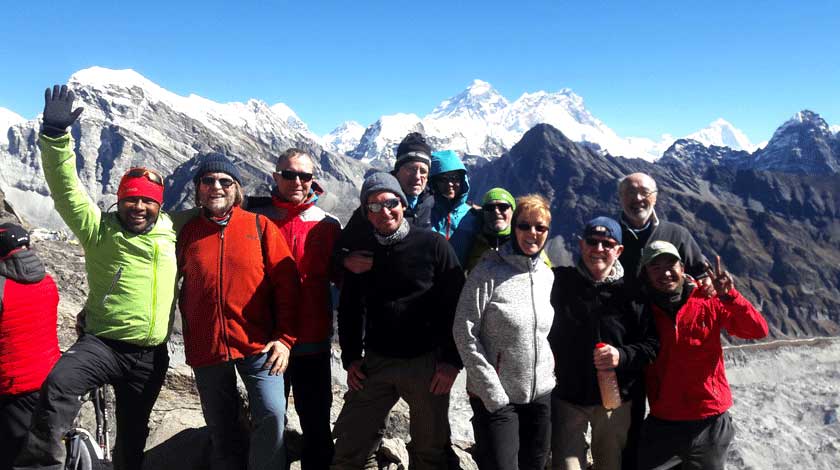 Trekking In Nepal 2022 /2023
Trekking In Nepal is probably everyone's dream once in life, Nepal is an unbelievable Himalayas epicenter in the World which is rising 8,848 m on top of the highest mount Everest land, lord buddha birthplace, Top 10 UNESCO World Heritage sites, and diverse linguistic heritage with various indigenous peoples habitat. 
Trekking In Nepal is absolutely heaven on earth with stunning landscapes, the Most papular trek in Nepal is Annapurna Region, Everest region, and Langtang region, but there are uncountable trekking and climbing destinations from short to long length trek inner these three territory regions. The Accommodations in each region trek is depending on your selection, some trek areTea house, some are homestay, and some trek in only camping which is in wilderness area ultimate experience.
in Additional, the captivate trek in Nepal reaches through altitudes between 1,500 meters to 5,500 meters, and Mountain peaks climb over through altitudes between 6,100 meters to 8,844 meters. 
Trek In Nepal Everest region 2022 /2023
Everest region has many trekking destinations short to long, But the most Papurals Trek is Everest base camp trek 12 days || Everest base camp with Gokyo Lake 15 days || Gokyo RI trek 11 days || popular peaks climbing Island peak || Ama Dablam || Baruntse peak || Mera peak || also adventures challenging trekking high pass, Rolwaling valley circuit || Sherpani Col pass || and 3 Everest high passes trek. 
Trek In Nepal Annapurna region 2022 /2023
the most papular Trek in the Annapurna is Annapurna base camp || Mardi Himal || Ghorepani Poon Hill || Annapurna Circuit || the more demandable wilderness region trek also inner the Annapurna region, Dhaulagiri circuit trek || Manaslu Circuit Trek || Tsum valley || Nar Phu Trek || and Tent Peak for the climbing. 
Trek In Nepal Langtang region 2022 /2023
Langtang region papular trek is 5 days langtang trek || langtang Gosaikunda trek || Ruby valley homestay trek || Gosaikunda Trek || and helambu Trek ||. There are also challanging passes wich is Tilman Pass || and Ganja la pass. 
What kind of equipment do we pack for trekking in Nepal?
While trekking in Nepal you need to pack up depending on you select the trek, if you planning to do Camping Trek in the Wilderness high altitude region then you need to arrange warm clothes and the best hiking boots. if you planning the Peak climbings then require climbing best gears with mountaineering boots, and if you are planning a tea house trek or homestay trek then normal equipment will work it. however, We have a general equipment list here, just check and arrange it.  
How is the Mountain weather like in the Himalayas?
The Nepal Mountain temperatures will be comfortable cool for walking in the daytime, but when you reach above 5,000 M altitudes it will be a cold night, so you need minus 25 sleeping bags and waterproof down jackets for the evening and morning at trekking season time to March, April, May, and Sept, Oct, November. In Addition, if you planning a monsoon season trek then do not forget to bring a raincoat or An umbrella.  
Is it difficult to Trek in Nepal?
The normal trekking route is not too difficult like an Annapurna, Everest, and Langtang Tea houses trek, just altitude makes a challenging trek, so above the 3,000 M to 5,000 M Altitudes hike at a slow pace and require some extra acclimatization day, which makes you safe and enjoyable journey, but the trek is High mountain passes or wilderness trekking region then definitely a challenging trip. though no need to worry, our expert guide and staff caring you to make success your goal.  
Nepal Wilderness trekking Pvt. is a trip-leading local Company in Nepal. The company is well known for its quality and affordability. In addition, with 70 experienced guides and porters, it is successful covering all trekking regions in Nepal. 
In addition, here are the Trekking regions covered:
Moreover, the company does other activities such as:
Also, the company is registered in:-
Nepal tourism board (NTB)

Tourism industry division (TID) 

Nepal Mountaineering Associations (NMA)

Trekking agency Associations of Nepal (

TAAN

)
Last but not least, Nepal wilderness Trekking company is a customer-centric company, our team shape what they do around our customers' needs. In addition, to know our customers' opinions kindly check TripAdvisor and the testimonials on the site. The company is one of the most excellent trekking service providers.