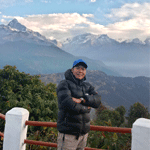 Bhim Ghale is one of the most experienced and skilled trek leaders you will ever encounter. During his childhood in the Ruby Valley, he accumulated trekking, hiking, and expedition experience.
Bhim Ghale began his career as a porter, just like many of our team members. Before becoming a guide, he had already completed hundreds of treks. By gaining an understanding of the minds of trekkers, he was able to excel as a trek leader. In 2010, he joined the Nepal Wilderness Trekking Pvt family and has proven to be a valuable member of the team.
Our company's NWT goal is to create happiness at all levels. It is certain that if you meet him in person, you will be impressed by his kindness, welcoming nature, and ability to be efficient, genuinely caring, and always eager to put a smile on your face.