Aime S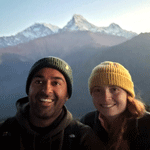 The experience was incredible and the views were breathtaking
This hike is an excellent introduction to trekking in Nepal. My partner and I have caught the hiking bug for real and are already planning our next trip.
There is nothing else like the mountains and the jungle areas in the world in terms of beauty. This is a moderate hike, and our guide did an excellent job keeping the pace and making sure we took regular breaks for water and rest so that we enjoyed the entire journey without feeling fatigued. Our group was even fortunate enough to see Grey Langur monkeys and a snake during our visit. Neither words nor photographs can adequately convey the breathtaking views from the top of Poon Hill. The experience was truly spectacular and heavenly.
Our guide, DB Basnet, had 30 years of experience and shared with us a great deal of information about the natural environment and Nepal. Our porter looked after us very well, recommending the best food at each hotel to try. DB had a great sense of humor and was very polite and kind. In addition, he will assist us in planning our trip to the Everest base camp.
Having done some research before booking with this company, we found that they offer excellent service at a very reasonable price. We even took a detour there and back to see the views from Sangurat. This trip is highly recommended.