Annabella S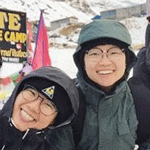 Annapurna Base Camp trek – Awesome!
With our guide, Yakub, we embarked on a 7D6N ABC trek from Kathmandu! From the airport transfer to the hotel to the transportation to Pokhara, where the trek began, we were well taken care of. Yakub is thoughtful caring. He made sure that we were laughing and enjoying ourselves laughing throughout the trek. We experienced prior knee issues, and I struggled with the numerous steps, but Yakub and our porter, Manjung, were so patient with me and walked at my pace. We were so impressed by the Nepali service provided by Yakub and Manjung! I highly recommend them! 
I would recommend this trek because of the spectacular views of the Himalayan region!