felme_hcd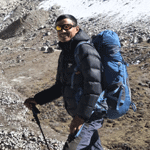 Arrived alone, left with friends – best agency!
Wilderness Trekking is an excellent agency for trekking and climbing tours in Nepal. Himal's professionalism has greatly impressed me. Throughout the trip, he never tired of answering my thousand questions – and this almost instantly! Because he has done many kinds of treks himself, as a pleasure or even as a guide, he knows what he is talking about. He remains attentive to any requests or sudden weather changes. Parkhi Dhan, my guide, was absolutely great, trustworthy, and knowledgeable. Parkhi Dhan was one of the most sociable guides I met along the way. 
Due to heavy snowfall, I was unable to cross the three high passes, so I trekked each valley separately to the end, then into the next one and back again. The most beautiful panorama and view on Mount Everest can definitely be seen from Gokyo and Gokyo Ri if you have limited time and are not sure which valley to go to. The Khumbu Valley is also beautiful, especially with snow. 
Despite going to Kathmandu knowing nothing or anyone, I have left with two new friends – THANK YOU HIMAL and PARKHI DHAN!!!