Rob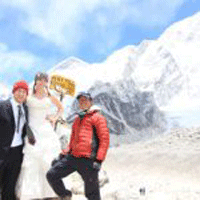 Everest Base Camp
Nepal Wilderness Trekking provided the experience of a lifetime! My wife and I are veteran travelers/explorers, but without Himal's company, our trek to Everest base camp would not have been nearly as enjoyable.
Himal was extraordinarily generous and allowed us to customize our trek as we saw the best fit. He was a professional and accommodated all needs from the first time we contacted his company to the moment we ended our trek.
Amber, our trek porter/guide, was terrific. He is an extraordinarily kind and hardworking man whom I hold in the highest regard. The effort gave to ensure we enjoyed our trek was remarkable, and when we return to Nepal, we would never consider choosing anyone else to be our guide. He always put safety first, had an excellent knowledge of the terrain, and never once minded when we wanted to stop for rest/photos (which was exceptionally often since we are into photography). Before and after our trip, Amber invited us to his home to enjoy a meal with his family. He isn't just a guide, but a friend.
I want to thank both Himal and Amber for providing an experience we will never forget. We look forward to seeing you again in the future.