Sabrina Chia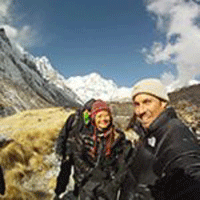 Annapurna base camp For my boyfriend, Marcus and I, Nepal has always been on our bucket list for years. Finally, after much thought and planning, we set off on Nov 7th, 2012 with Nepal Wilderness on an 11 days hike on the Annapurna base camp. Our guide was Purna Gurung and our friendly porter, Jagadish. We wanted to hire a local company and not a foreign one, so I found Himal at Nepal Wilderness. He was prompt, efficient, knowledgeable, and thorough.
All our emails were answered promptly which made our planning a breeze. All we had to do was pack our bags and hope for the best;) And we were not disappointed. We were met at Kathmandu airport by Himal himself the first night, after our flight from Hong Kong that was delayed for 3 hours. That's a usual occurrence for Nepal airlines as we found out 🙂 We were delighted that everything e.g passes, domestic tickets are all organized. Good start for the holiday 🙂 We were met in Pokhara by Purina. His Dynamic character shows immediately.
It was Jagadish first job as a potter, but his cheerful character and willingness were such a blessing for the trek ahead. Our experience cannot be as rewarding if it's not for Purna's expertise. Purna has extensive knowledge of his country concerning flora and fauna, geographical, culture and history. He was patient, always explaining our day, taking care of our every need, waiting up for us lovebirds), taking pictures which he is superb at, sitting down to get to know us… genuinely.
He relentlessly introduces us to his culture as we were fortunate the festival of light was in full gear. We danced, sang and drank alongside the locals. Purna has a great sense of humor, very engaging, we became good friends and had such a ball on the trek) One of the most intriguing night is where we all sat down with friends we met along the trek by a campfire singing and just getting to know each other and soaking in the beauty around us…magical! Himal, Purna and Jagadish have proven to be great ambassadors for their country. We highly recommend their services. Our trip to Nepal was enriching and memorable, especially having met these 3 beautiful people! 😉 Sometimes uphill, some time downhill, rei sam
We highly recommend their services. Our trip to Nepal was enriching and memorable, especially having met these 3 beautiful people! 😉 Sometimes uphill, some time downhill, rei sam pei ri ri…a local song we learned and sang every day)