Toby N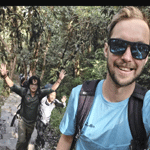 The Poon Hill trek is an amazing four-day adventure
My wife and I participated in the poon hill trek for four days with Vishal as our guide and Suk as our porter. It was a wonderful four days and I would highly recommend it. We stayed in great tea houses and had great views of the mountains every morning. Vishal spoke excellent English, was incredibly knowledgeable about the area and was able to put up with my million and one questions very well. It was a real pleasure to have a guide who was from the area as we learned a lot about the local culture, heritage, politics, and natural environment.
It is true that the first two days were relatively brief, and we felt that we could have challenged ourselves a bit more, however, in retrospect, it left us with enough energy for the last two days, which were longer and more challenging. There is no need to think the downhills are easy, as they are probably harder than the uphills, especially on the final day when the majority of the downhill is steep with deep steps.
I cannot imagine many other treks that provide such a diverse range of scenery and sub-mountain climates as this one does.
Thank you, Vishal and Suk!