Paul Nurflus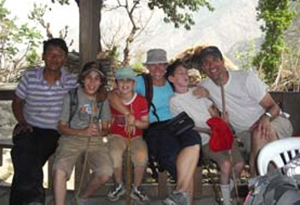 Jomsom Muktinath Trek
To all visitors to beautiful Nepal – Jomsong Muktinath trekking! We are a family of five and did in March 2010 a three week trip to Nepal with Himal Ghale as our guide. We found Nepal amazing in two main aspects: of course, the Himalayas are breathtaking and worth themselves only the trip to Nepal; but we also loved very much our encounters with local people and understanding of the local customs and culture, all facilitated by Himal. Our cultural experiences during our visit fascinated all of us (kids included) and were a great and unexpected addition to our trip.
We believe we were able to enjoy such a rich Nepalese cultural experience thanks to our guide. Himal speaks excellent English, and also has a lot of knowledge of the mountains and the people living in them, including many aspects of their culture. He liked to share his experience and was always ready to answer our endless questions. Being with kids (three boys, ages 13, 11, and 6), we did less walking per day as what typical tourists do. Therefore we arrived to guest houses early in the afternoon, which left us time to be guided by Himal to visits of the villages we stopped in (we flew to Jomsom, walked to Marpha, then took a jeep to Tatopani, climbed to Poon-hill, and walked down the other side to take the bus back to Pokhara – 6 days). We strongly recommend this slower pace as it enables the visitor to see more of the local ways of life, giving an additional dimension to the trek.
Himal also was very sensitive to our family needs: he has a great ability to feel when to leave us alone as a family, and when to be more involved and help, explain, translate with locals, show and excite. He always knew well how to manage our expectations, and was very sensitive to our particular needs. His sensitivity and knowledge sharing capabilities made us experience Nepal in much more ways than what we typically saw and heard from other tourists. We would very strongly recommend you to travel with Himal and trust you will have a beautiful and rich experience!
Other places we visited: it is also worth mentioning our visit to the Chitwan National park, which our kids and we loved! We saw a lot of wildlife on the river and in the park (tiger droppings, five rhinos from close range, two crocodiles meters from us, a fantastic number of birds and deer), and had a great elephant experience. The guide in our lodge was professional, and this also made a significant contribution to our pleasure there (although accommodations in and around Chitwan are necessary). Regarding Kathmandu, our opinion is to stay there only when necessary as it has become an extremely crowded town, with massive traffic jams, and a lot of noise.