Trini Le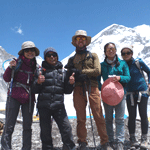 I have done the 3 Pass Trek with this company and I have to say it was very challenging, but rewarding and worth it nonetheless. It was one of the hardest ones yet compared to the ones that people usually do (16 days, several nights above 15,000 ft and counterclockwise direction), so it can really push you to the very edge of your abilities. I recommend this trek only to those who are in pretty good hiking shape as even in the best shape, you will still be able to kick your butt out of this trek.
It was a great pleasure to have a guide and porter with us. As a group, we were led by Riddhi who was a great guide – he was warm, welcoming, and took great care of us (there was a lot of adjustment needed to get used to the altitude, cold, and physical requirements required for this trek). We were together for a long time doing this hike and it was wonderful to have someone who knew what they were doing and could take care of the lodging and details for us. In addition, it was really nice to see that the guides also got excited about the mountains as well. He was just as excited as we were to see the views from the passes and Mt Everest from up there.
We also had our porters carry our extra luggage, and they did a great job. In hindsight, it is hard to imagine having to carry everything you would need for this trip all by yourself. Our guide manager, Himal, prior to our trip was very communicative and responsive. We asked him all the questions we had, and he was very helpful when one of our friends needed help during the trip. I would highly recommend him as someone to know when going on a trip like this. As a whole, I found the value and price for this tour to be very good, and I would recommend this company to others.