VineNFigTree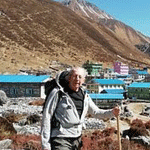 Trekking the Langtang and Tamang Heritage
I booked an 11-day package (9 days trekking, 2 days traveling) with Himal Ghale at Nepal Wilderness trekking for Tamang heritage trail trek, it was a great experience with my porter cum guide.
This section of the trek involves daily ascents and descents of 500-1000 m. of the trek involves a more-or-less upward climb to Kyanjin, the final destination and highest point on the trek at 3860m. On some days, I walked for up to 6-7 hours.
Keep to the daily schedule, and reach Langtang on Day 6 to get to Kyanjin before the afternoon clouds roll in unless you intend to add another day or two for walks to higher altitude, such as to Kyanjin Ri (a two-hour climb).
While this is a well-known and popular tourist trail, if you do not have a guide you may take the wrong trail, as many junctions are not marked and it is unclear where to go. Our guide/porter was young and not very experienced, having done this trek just once before, and we went off trail a few times.