Yarun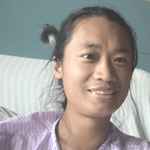 Nepal Wilderness Trekking is a trek I highly recommend. Himal, the owner of the property, was always responsive both leading up to and during the trip. Furthermore, after my hospitalization, Himal took very good care of me and made sure that I still had a memorable experience while I was in Nepal.
As soon as we arrived in Kathmandu, we met up with him for a pre-day check-in and he made himself available for any further questions our group may have. Furthermore, he gave us the option of storing our luggage at his office if we did not want to store our luggage at the hotel. As well as offering some trekking tips, he also gave us the option of either using the duffel bags from his trekking company or the ones we brought with us. The porters would be responsible for carrying the duffel bags.
I am very grateful to have had a trekking guide and a porter to accompany me on the trip. Our trekking guide took care of all the logistics related to permits, and teahouses, and guided us on the right path all by himself. All of the items that I was not going to use while trekking for that particular day was carried by the porter. The result of this was that I was able to trek with a light daypack (maximum recommended weight of 7kg) while the porter carried the remaining 10kg to 15kg of my luggage. The trekking guide we had was Riddhi and my porter was Sid. Both were caring, thoughtful, and wonderful people.
I had the unfortunate experience of getting Acute Mountain Sickness (AMS) on day 3 of my 17-day trek and had to be med-evacuated to the hospital. Since I was unable to be at high altitudes as a result of my medical condition, the Himalayas were no longer an option for me. Instead, Himal and I worked together to design a low-altitude itinerary that would align with all of the parameters of my health requirements. In addition to a personal trekking guide/porter, I visited the cultural and culinary history of Kathmandu, spelunked, and went sightseeing around Pokhara, including a 2-day trek to Poon Hill. I also visited the Buddhist monasteries of Lumbini (birthplace of Buddha) and took a mountain flight through the Himalayas.
Despite the fact that I was unable to complete my 17-day trek through the three passes which included Everest Basecamp, Himal helped me salvage my trip and put me on a custom trip that he and I planned together. Himal was thoughtful, responsive, and did his best to ensure my experience in Nepal was good. He even visited me the first two days I was in the hospital. It was a great pleasure to book my trip through Nepal Wilderness Trekking. I doubt that any other trekking company would have worked as hard as Himal did to help me create such a wonderful 3-week experience in Nepal despite my inability to hike the Himalayas.