Bhim Ghale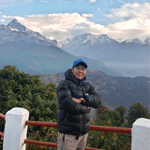 Let me introduce you to Bhim Ghale, an exceptional and highly experienced trek leader. Hailing from the beautiful Ruby Valley, Bhim's passion for trekking, hiking, and expeditions developed during his childhood years.
Bhim's journey in the trekking industry began as a porter, much like many of his fellow team members. Even before becoming a guide, he had already accumulated an impressive track record, completing hundreds of treks. This firsthand experience provided him with valuable insights into the mindset of trekkers, enabling him to excel as a trek leader.
In 2010, Bhim joined the Nepal Wilderness Trekking Pvt family, and since then, he has proven to be an invaluable member of the team. At Nepal Wilderness Trekking (NWT), our goal is to create happiness at all levels, and Bhim plays a vital role in achieving this objective. When you have the opportunity to meet him in person, you will be captivated by his kindness, warm nature, and remarkable efficiency. Bhim genuinely cares for the well-being of his trekkers and is always eager to ensure that they have a memorable and enjoyable experience. His infectious smile and genuine dedication to putting a smile on your face make him an exceptional trek leader.
With Bhim Ghale as your guide, you can rest assured that you are in capable hands. His extensive experience, coupled with his genuine care and attentiveness, will elevate your trekking adventure to new heights. Bhim's expertise and dedication embody the spirit of Nepal Wilderness Trekking, where creating happiness and forging unforgettable memories is at the forefront of our mission.
Get ready to embark on an extraordinary journey with Bhim Ghale as your trek leader. Prepare to be inspired, amazed, and filled with joy as you explore the wonders of Nepal under his guidance.
Namaste, and let Bhim's warmth and expertise guide you to incredible experiences in the breathtaking landscapes of Nepal.