Buddha Rai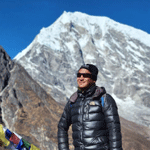 Greetings! I am Buddha Rai, proud to call the Solu Khumbu district home, specifically from the Mahakulung Rural Municipality Word No. 1 in the charming Bung village. Since 2008, I've been an integral part of Nepal's tourism industry as a dedicated trekking guide, and I hold license number 8061, a testament to my experience and commitment to providing a safe and enriching trekking experience.
Over the years, my journey as a guide has taken me through almost every trekking region in Nepal, allowing me to develop a profound understanding of the diverse landscapes and cultures that make this country so unique. From the towering peaks of the Annapurna and Everest regions to the hidden treasures nestled in lesser-known areas, I have had the privilege of sharing the beauty of Nepal with trekkers from around the world.
Since 2019, I've been fortunate to be a part of the Nepal Wilderness Trekking family, an association that aligns with my values of responsible and sustainable tourism. Working with this reputable organization has not only enhanced my guiding capabilities but has also allowed me to contribute to the promotion of ethical travel practices in Nepal.
As your trekking guide, my goal is to not only guide you through the awe-inspiring landscapes but also to provide a deeper connection to the local culture, traditions, and the natural wonders we encounter along the way. Whether you are an experienced trekker or venturing into the mountains for the first time, I am dedicated to ensuring that your trek is not just an adventure but an immersive and culturally enriching experience.
Join me as we explore the breathtaking beauty of Nepal together. From the serene landscapes to the vibrant villages, let's create memories that will last a lifetime. I am excited to share my passion for trekking with you and provide an unforgettable journey through the heart of this Himalayan paradise. Namaste!