DB Basnet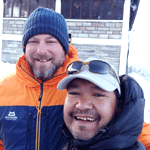 I am Dan bahadur (DB) basnet from Solu-Khumbu district, Sotang rural municipality wor no 5, Chhepreng. Since 1997, I have been working as a trekking guide and guide for tours in the trekking and tourism industry.
I trained as a Government Guide in 1999, have a trekking guide license, and have worked in many different trekking regions in Nepal. I have more experience in this field, and I spend my whole time working in the Nepalese Himalayan. In addition to such trekking areas as Annapurna Base Camp, Dhaulagiri circuit, Throng La pass, Tilicho Meso Kanto La pass, Mustang, Saribung pass, Manaslu circuit, Ganesh Himal, Langtang, Helambu, Gosaikunda, Ganjala pass, Everest Base camp, Rolwaling Tashi Lepcha pass, Sherpani col, Kanchanjunga and much more, I am also the
There are several reviews from previous customers on the site, so if you would like to test a challenging trek, please welcome Nepal to trekking with us.