DB Basnet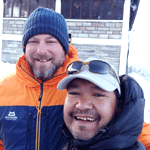 Namaste!
I am Dan Bahadur (DB) Basnet, proud to call the stunning Solu-Khumbu district, specifically Sotang Rural Municipality Ward No. 5, Chhepreng, my home. Since 1997, I have dedicated my life to the trekking and tourism industry, working as a trekking guide and tour guide in Nepal.
In 1999, I underwent comprehensive training and became a certified Government Guide. Holding a trekking guide license, I have had the privilege of working in various trekking regions across Nepal. With years of experience in the field, I have developed a deep understanding of the Nepalese Himalayas and its diverse landscapes.
My extensive trekking experience encompasses renowned areas such as Annapurna Base Camp, Dhaulagiri Circuit, Throng La Pass, Tilicho Meso Kanto La Pass, Mustang, Saribung Pass, Manaslu Circuit, Ganesh Himal, Langtang, Helambu, Gosaikunda, Ganjala Pass, Everest Base Camp, Rolwaling Tashi Lepcha Pass, Sherpani Col, Kanchenjunga, and many more. Each of these regions holds its own unique charm and presents thrilling challenges for trekking enthusiasts.
I take great pride in the reviews and testimonials from my previous customers, which attest to my commitment to providing exceptional trekking experiences. If you are seeking a challenging and rewarding trek, I invite you to join me in exploring the majestic trails of Nepal. Together, we will conquer the mountains, witness breathtaking landscapes, and create memories that will last a lifetime.
Nepal, with its awe-inspiring Himalayas, rich culture, and warm hospitality, eagerly awaits your arrival. I assure you that trekking with us will be a remarkable adventure that will test your limits and leave you with a deep appreciation for the natural wonders of this Himalayan nation.
So, if you are ready to embark on an unforgettable trekking journey, I extend a warm welcome to Nepal. Join us as we explore the trails, challenge ourselves, and experience the true essence of the Nepalese Himalayas.
Namaste and see you soon in Nepal!
Dan Bahadur (DB) Basnet