Makaraj Tamang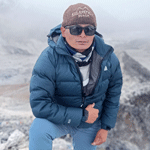 Namaste!
I am Makaraj Tamang, hailing from the beautiful village of Deusa in Solukhumbu 6, Nepal. It brings me great joy to introduce myself as a guide for the esteemed Nepal Wilderness Trekking Agency. Since 2015, I have had the privilege of working with this renowned agency, guiding trekkers through the breathtaking landscapes of Nepal.
In 2019, I underwent rigorous training and obtained my government guide certification. With this qualification, I now proudly serve as an expert guide for treks in the Everest region. This territory holds a special place in my heart, and I am thrilled to share its wonders with you.
Trekking in the Everest region is an experience like no other. The towering peaks, picturesque valleys, and the warm hospitality of the Sherpa community combine to create an unforgettable journey. As your guide, my aim is to ensure your safety, comfort, and enjoyment throughout the trek. I will share my knowledge of the local culture, history, and natural beauty that surrounds us, making your trek an enriching and immersive experience.
If you are ready for an adventure in the majestic Everest territory, I invite you to join me. Together, we will create memories that will last a lifetime. For further inquiries and to begin planning your trek, please feel free to contact me.
I eagerly await the opportunity to guide you through the wonders of the Everest region. Let's embark on a journey of discovery, exploration, and breathtaking vistas.
See you soon!
Makaraj Tamang