ParkhidhanTamang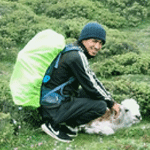 Namaste!
I am Parkhidhan Tamang, and I proudly call the Deusa village in Solukhumbu 6 my home. It is my pleasure to introduce myself as an assistant guide for a renowned Nepal Wilderness Trekking Company. Since 2014, I have been fortunate to work with this esteemed agency, assisting trekkers in their exploration of the magnificent landscapes of Nepal.
Having recently completed my government-authorized guide training, I am thrilled to announce that I am now fully equipped to lead treks in the Everest Territory. The training has further enhanced my skills and knowledge, enabling me to provide a safe and enjoyable experience for trekkers in this awe-inspiring region.
The Everest Territory holds a special place in the hearts of adventurers from around the world. Its towering peaks, mesmerizing valleys, and the legendary Sherpa culture combine to create an unforgettable trekking experience. As your guide, my utmost priority is to ensure your safety and comfort throughout the journey. I will share my local insights, provide guidance on the trails, and introduce you to the rich cultural heritage that thrives in this region.
If you are ready for an incredible trekking adventure, I invite you to join me on a journey that will leave you with lifelong memories. Together, we will conquer the trails, soak in the breathtaking vistas, and immerse ourselves in the magic of the Everest Territory.
Let's embark on this adventure together! Feel free to reach out to me for further details and inquiries. I am excited to guide you through the wonders of the Everest region and make your trekking dreams come true.
See you soon!
Parkhidhan Tamang