Riddhi Ghale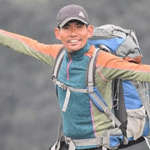 Namaste to all readers.
I am Riddhi Ghale. I come from ISIM village in Dhading 4 Ruby Valley rural municipality. I am a mountain guide and trekking expert in the Himalayan region of Nepal. I have been a senior trekking guide with the Nepal Wilderness trekking agency since 2000.
I have climbed many high passes and summited over 6000 m peaks during my working period. My goal is to help you achieve your goal and to teach you about Nepali cultures, history, and diversity.
Visit with us and fulfill your dream.
Riddhi Ghale.