Riddhi Ghale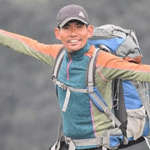 Namaste to all readers!
I am Riddhi Ghale, a proud resident of the enchanting ISIM village in Dhading, located in the Ruby Valley rural municipality of Nepal. With immense joy, I introduce myself as a mountain guide and trekking expert in the mesmerizing Himalayan region of Nepal. For over two decades, I have served as a senior trekking guide with the esteemed Nepal Wilderness Trekking Agency, starting my journey in 2000.
Throughout my career, I have had the privilege of conquering numerous high passes and scaling peaks exceeding the impressive altitude of 6000 meters. These experiences have not only deepened my love for the mountains but also equipped me with the necessary skills and knowledge to guide you safely through the Himalayan landscapes.
My utmost goal as your guide is to help you achieve your own goals and aspirations. Whether it's reaching the summit of a challenging peak, experiencing the serenity of remote trails, or immersing yourself in the rich cultural heritage of Nepal, I am committed to making your dreams a reality. With my guidance, you will not only witness the awe-inspiring natural beauty of the Himalayas but also gain a deeper understanding of Nepali cultures, history, and the incredible diversity that defines our nation.
I invite you to join me and embark on a journey that will leave an indelible mark on your soul. Let us explore the hidden gems of Nepal, experience the warm hospitality of its people, and immerse ourselves in the unique blend of adventure and tranquility that only the Himalayas can offer.
Visit us and witness your dreams come to life amidst the grandeur of Nepal's majestic landscapes.
Warm regards,
Riddhi Ghale