Subaraj Magar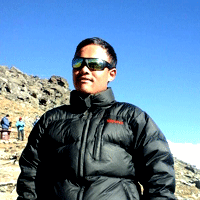 Namaste!
My name is Subaraj Magar, and I am proud to call Lukla my home. For over a decade, since 2010, I have been working as a seasoned trekking guide in the magnificent Everest region of Nepal. Throughout my career, I have had the privilege of leading countless treks, immersing myself in the awe-inspiring landscapes of this renowned destination.
I have had the opportunity to guide treks to iconic locations such as Everest Base Camp, Gokyo Valley, Jiri to Everest Base Camp, as well as Phaplu to Everest Gokyo. These treks have allowed me to intimately explore the diverse terrains and hidden gems of the Everest region, enriching my knowledge and understanding of the area.
In addition to guiding treks, I have also embarked on peak climbing adventures. I have successfully summited peaks like Island Peak, Lobuche Peak, Mera Peak, and Kongde Peak. These thrilling climbs have tested my skills and endurance while providing me with breathtaking views and unforgettable memories.
Through my extensive experience in the Everest region, I have developed close relationships with the local community. Many of the tea houses we visit during our treks are owned and operated by my relatives, who serve as cooks and helpers. This connection allows me to provide a warm and authentic experience, as well as insights into the local culture and traditions.
To learn more about me and the treks I offer, I encourage you to reach out to Nepal Wilderness Trekking. They can provide additional information and help you plan an incredible adventure in the Everest region.
Thank you for considering me as your guide, and I look forward to welcoming you to the majestic landscapes of the Everest region.
Dhanyabad! Subaraj Magar Lukla