Are you an independent traveller?
Are you an independent traveller?
Are you an independent traveller?
Hire porter . Hire Guide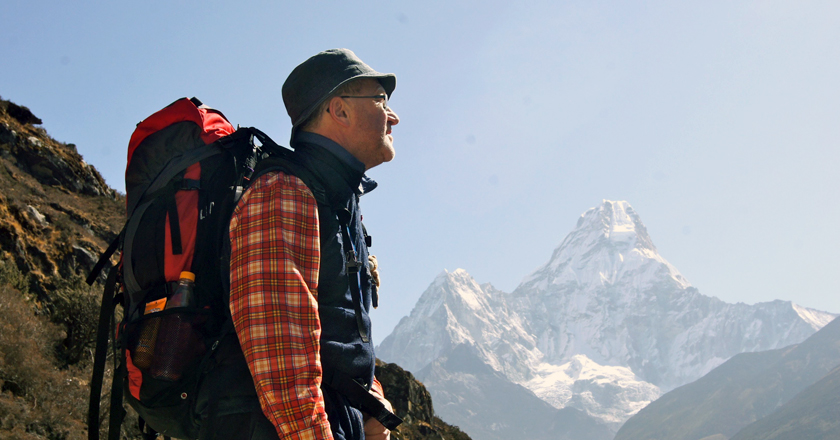 Are you an independent traveller?
If you are an independent traveller, Then we are here for your trekking Guide Hire in Nepal,  hiring a guide and Porter cum guide for your Nepal trekking, climbing path, and tours in Nepal. It's so beneficial to have a guide accompany you on your adventure. Each of our guides has a specific area of expertise. No doubt you'll come away from your adventure with a new skill, whatever your level of ability may be. Besides learning new skills, you will also gain a lot of knowledge about the location and cultures you go to for your adventure, from people who know it best. It gives you the confidence to push yourself that little bit further to have an expert there to challenge you and cheer you on at the same time.
So you can head into any trekking along your path independent with a qualified guide at your side, an honest, sincere, informative, best services provider, we are here to ensure your safety, not to rip you off, and to provide guides and porters get fair pay for any trekking region, guide or porter guide from Pokhara, guide or porter guide from Lukla, guide or porter guide Syabrubesi.
For hiring a porter cum guide in Nepal all fees are included as necessary equipment, insurance, meals, and Lodges accommodations for the Guide and porter as well as his or her salary. Going with a guide and porter is a very wise option to go trekking in the Himalayas.
Not only their Local knowledge valuable with a porter /guide. Also, they can assist you with any emergency, recommend the best place to stay and eat, and show you the hidden treasures along the trail that you might usually miss, One of the most significant parts of your trekking Experience is your guide, Your Nepali guide will be taking care of everything to you along the trekking/ climbing.
What is the most effective way to find a porter for your trek? Porters can be hired from local travel agencies. Often your guide-porter will be the most remembered thing from your trekking experience. We match you with a guide and porter for your trek. You can set your pace, stay where you want, and at the same time gather the benefits of knowing, you are trekking with an experienced, registered, and qualified guide backed and supported by the Nepal wilderness trekking agency, In addition to our full support group treks, tea house packages, and summit expeditions.
Hiring a porter for your trek is the best option If you do not like package Trekking, If the client wants to hire a Nepalese Guide or Nepalese Porter just for Nepal Travel, that is fine with us. We will assist, service, and provide you with a Guide and Porter for all Nepal Trekking Regions and Seasons at affordable rates. We have experienced, Knowledgeable, Trained,  Honest Guides and Porters. We have been providing service to clients since 2008 in the Nepal Tourism industry.
Our goal is to develop tourism by offering the best price and service to clients. We are registered with the Nepal Government and ensure your safety in your travels and guide porters as well since we are registered and we provide all kinds of services for the clients, In addition to offering the best price, we serve all regions and seasons in Nepal. For the Everest Region, we provide a trekking guide and porter on a direct basis from Lukla. We offer a private Guide and porters Service from Kathmandu, Pokhara, Dhunche, Syabrubesi, and Lukla for your individual needs, all our Guides are experienced, professional and multi-language speakers.  Nepal wilderness trekking company is offering you a special individualized service.
Porters are carrying Luggage of two clients maximum of 15 kg, The guide doesn't take any Luggage except his own, guide cum porters carry 10 kg and lead as a guide, porter-guide speak enough English to communicate, porters only understand Basic English, Guides of course well trained and have lots of experience in trekking and all kinds of Adventures. Moreover,  can tell you many things about the mountains, the culture, history and religions of Nepal.
If you are in our blog; Highly appeals that you at least have a porter cum guide for your trek, we are working not self-profit, we supply local guides and porters for their benefit, at least better educate their kids and feed the family from your visit. Expand your horizons with a trek into the remote reaches of the Himalayas. Our expert guides will lead you through dramatic changes in terrain and lifestyle, introducing you to the wonders of this seldom-visited land. Get ready to go off the beaten track with Nepal Wilderness Trekking.
Price for hiring a guide and porters
Everest Region:
 Guide: U$D 30 per day
Porter/Guide: U$D 25, per day
Porter U$D: 22 per day
Government Tax + service charge U$D 30 one time per person
Manaslu and Stum valley:
 Guide: U$D 35 per day
Porter U$D: 25 per day
Government Tax + service charge U$D 50 one time per person
Annapurna Region:
Guide: U$D 30 per day
Guide/porter: U$D 25, per day
Porter U$D: 22 per day
Government Tax + service charge U$D 30 one time per person
Langtang – Helambu Region:
Guide: U$D 30 per day
Guide/porter: U$D 25, per day
Porter U$D: 22 per day
Government Tax + service charge U$D 30 one time per person
This cost is valid only from 2023 to 2024 on normal trekking routes; Price will include their Salary, Meals, Accommodation, Insurance, and equipment.
Note: You have to pay for yourself, Meals, accommodation, transportation, Permits, hotels, Domestic air ticket,  and a National park permit when you are using this kind of service and will inform you of your total cost in advance thank you from Nepal wilderness trekking guide team.  for more info contact us
---