Nepal Yoga Trek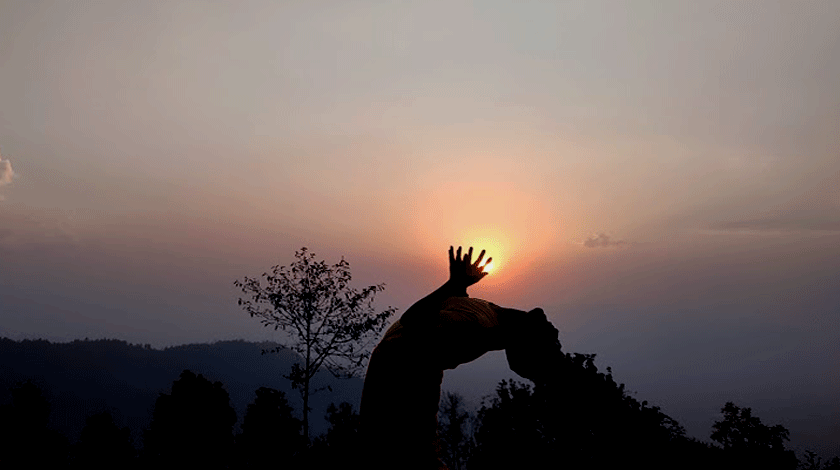 Nepal Yoga Trekking Package
Nepal Yoga Trek gains the fastest cosmic energy power, yoga Trek is able to do any eco shorts Himalayas trekking destinations in Nepal with a professional yoga teacher as the trekker demand, yoga trek routine for a reached appreciation of the inner and outer landscapes with eco-cosmic energy power, mentally relaxing, and health benefits.
Nepal is the best place to trek and do yoga in the Himalayas, Yoga is essential for staying healthy. It is a golden chance to see high mountains, trek with a yoga instructor, and explore Nepal's heritages, as well as Yoga and meditation can be done morning and evening during your trek.
Yoga is to unite with body mind and soul, it is an art established by Surya Dev, and there are many types of yoga. But the popular yoga in the trek is our teacher will teach you Raj Yoga, Gyan Yoga, Bhakti Yoga in the morning, and Hata Yoga and Ashtanga Yoga in the evening. Yoga treks are extremely beneficial for the body and mind of trekkers through daily activities, yoga trekking in eco-environment scenery is a combination of these elements that creates an act of more fulfilling courage that opens the mind to more relaxation and awareness.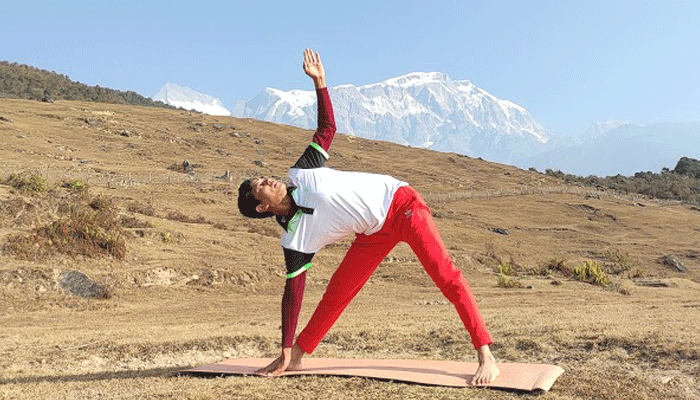 We Nepal Wilderness Trekking Pvt Leads several Trekking destinations with professional Yoga teacher "Guru Yogi Navin Ghale" the best spot for the Nepal Yoga Trekking package is Poon Hill Trek, Mardi Himal trek, Annapurna base camp, at Annapurna region. Langtang trek, Helambu Trek, Gosaikunda Trek, at Langtang region. Tengboche trek, at Everest region. These trekking are short and suitable for the Yoga trip. Note that our Nepal Yoga Trek cost is U$D80 extra per day, and the rest of the trip cost is listed on each page. if there are more numbers then the Yoga teacher cost can be shared in the group.
Ashtanga Yoga is a transformative practice. It is a life-long journey in which we confront deeply rooted mental and physical patterns and work directly with our own limitations. Ashtanga is not the easiest but it is an immeasurably rewarding practice as long as we commit to it: the truth is that we can all change!  – And Nepal is a place that takes yogic practitioners very seriously.
The valley which for centuries has been the home of great spiritual adepts is scattered with meditation caves and shrines dedicated to great yogis of the past. This is a place where many practitioners still spend months and years in solitary retreats and the perfect place to engage in deep transformative practice. Here we have the support of a limitless sky, the vastness of the mountains, and a huge and diverse spiritual community.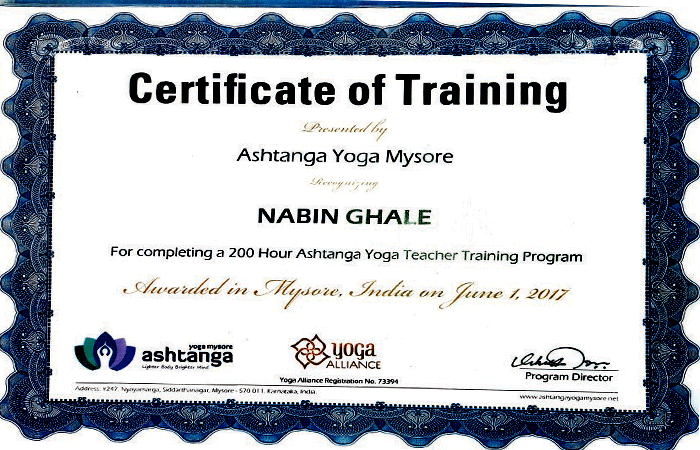 During the Nepal Yoga Trek, please listen to the Teacher and follow these rules 
1. Listen to Yoga teachers and follow breathing techniques
2. Keep relaxing your mind and transfer more oxygen to the muscles
3. Gently bring attention to the breath and body.
4. only practice poses that feel comfortable to your body
5. focus on each individual pose
6. do not forget your mobile phone off
7. do not change nature, lets them change you
Throughout the trek, you'll have opportunities to interact with local communities, learn about their customs and traditions, and gain insights into the Nepalese way of life. Experience the warmth and friendliness of the Nepalese people as they welcome you into their homes and share their stories.
As you trek, you'll also have time to soak in natural hot springs, savor delicious Nepalese cuisine, and marvel at the panoramic vistas that surround you. The combination of physical exertion, natural beauty, and spiritual practice creates a transformative experience that will stay with you long after you leave the mountains.
Nepal Yoga Trek is suitable for both experienced trekkers and yoga enthusiasts. However, a basic level of fitness and prior experience with yoga is recommended to fully enjoy and benefit from the journey. Our team will provide guidance on the necessary equipment and help you make the necessary preparations for the trek.
Join with Nepal Wilderness Trekking Guide team for Your Yoga Trek and discover the perfect harmony between adventure, mindfulness, and personal growth. Allow the grandeur of the Himalayas to inspire you, and let the practices of yoga and meditation guide you toward inner peace and self-discovery. Unveil the magic of Nepal as you embark on a journey that nourishes your body, mind, and soul.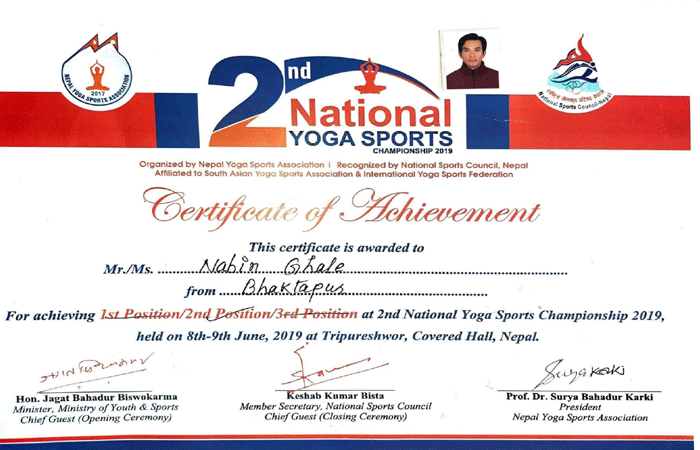 Starting your day with a yoga practice can be a great way to prepare your mind and body for a trek in Nepal. Here are some benefits of doing morning yoga before your trek:
Stretching and warming up your muscles: Yoga can help to stretch and warm up your muscles before your trek, reducing the risk of injury and making your body feel more limber and relaxed.
Calming your mind: Yoga can help to calm your mind and reduce stress and anxiety, which can be especially helpful if you are feeling nervous or anxious about the trek.
Improving your breathing: Many yoga practices focus on deep breathing techniques, which can help to improve your lung capacity and make it easier to breathe at high altitudes.
Connecting with nature: Practicing yoga outside in the fresh air and surrounded by the natural beauty of Nepal can be a wonderful way to connect with the environment and set a peaceful and grounded intention for your trek.
When practicing morning yoga before your trek, it can be helpful to work with a yoga instructor or guru who has experience in leading practices specifically for trekkers. They can help you to choose poses that are particularly beneficial for preparing your body for a trek and can provide guidance on proper alignment and breathing techniques.
Overall, incorporating morning yoga into your pre-trek routine can be a great way to set a positive and grounded intention for your trek and to prepare your mind and body for the challenges ahead.
---