Note: We also provide you with the Island Peak summit certificates from the Nepal Mountaineering Association (NMA) end of your trip
.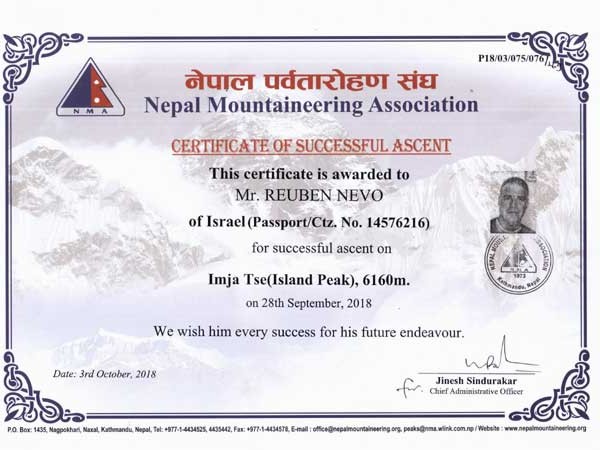 Overview of Island Peak:
Island Peak, also known as Imja Tse, is a prominent 6,173-meter-high mountain in the Everest region of Nepal. Renowned as one of the most popular trekking peaks, Island Peak offers an exhilarating climbing experience for both novice and experienced climbers. Situated within the Sagarmatha National Park, this adventure provides stunning panoramic views of the surrounding Himalayan giants, including Lhotse, Nuptse, and Ama Dablam. The ascent involves a mix of rock and ice, with a challenging final ridge leading to the summit. Climbers typically use crampons, ropes, and ice axes to navigate this route. The trek to Island Peak often includes acclimatization through the Everest Base Camp or Gokyo Valley routes, making it a perfect combination of trekking and mountaineering. Summiting Island Peak is a rewarding achievement and a fantastic opportunity to stand atop a Himalayan peak, taking in breathtaking vistas that stretch across the Everest region.
Island peak highlights:
Mesmerizing Scenery: Immerse yourself in awe-inspiring vistas of the Everest region, with panoramic views of Lhotse, Nuptse, Ama Dablam, and surrounding peaks.
Accessible Trekking Peak: Island Peak is one of Nepal's most accessible trekking peaks, making it an ideal choice for those new to mountaineering.
Climbing Challenge: Conquer a mixed rock and ice route with a challenging final ridge, requiring basic mountaineering skills and equipment like crampons and ice axes.
Cultural Immersion: Trek through Sherpa villages, and monasteries, and immerse yourself in the rich local culture of the Khumbu region.
Acclimatization: Typically integrated into popular trekking routes like Everest Base Camp or Gokyo Valley, ensuring proper acclimatization for a successful summit.
Stunning Sunrises: Witness breathtaking sunrise views from Island Peak's summit, casting an ethereal glow on the surrounding peaks.
Adventure and Achievement: Summiting Island Peak at 6,173 meters is a remarkable accomplishment, rewarding climbers with a sense of triumph and connection to the Himalayas.
Photographer's Paradise: Capture moments of beauty – from glacial landscapes to prayer-flag-adorned passes – as you traverse this captivating region.
Cultural Insights: Interact with local Sherpa communities and experience their warm hospitality, adding depth to your Himalayan adventure.
Epic Views of Everest: Stand on the summit and gaze upon the iconic Everest from a unique vantage point, etching memories that will last a lifetime.