Adventure medical first aid
Adventure medical first aid
Adventure medical first aid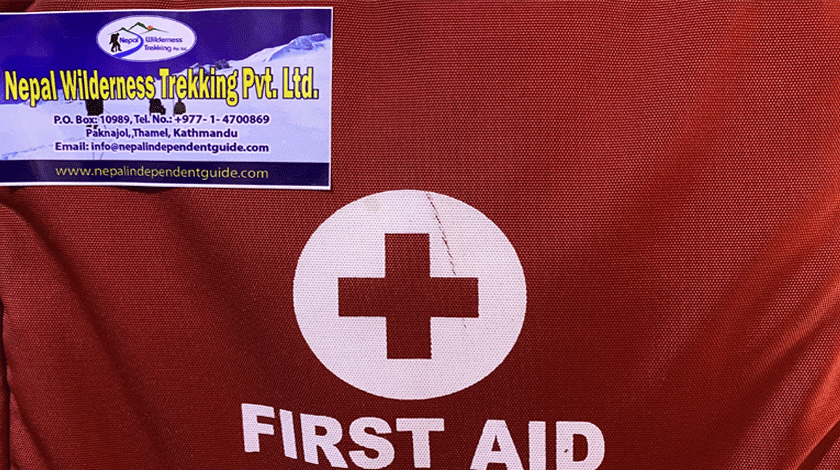 Adventure medical first aid
Wilderness Adventure medical first aid kits should be standard for trekking in Nepal or mountaineering any high mountain and should be equipped with enough supplies to treat basic injuries.  
Nepal Wilderness Trekking trails with the Himalayas are always located at high altitudes. In the event of an unexpected incident, there are no hospital facilities or health institutions available. our guide carries basic medication facilities available in the event of extreme circumstances, however. As a result, Trekking Trail Nepal strongly recommends carrying a small medical kit while Adventure trekking in Nepal to prepare for such unforeseen circumstances.
The medicine you take on a regular basis should be brought with you if you are taking it regularly. You should also consult your physician, who may have an updated list of medications. For your Adventure in Himalayan Trekking or Mountaineering in Nepal, you must take any regular medications prescribed by your physician. The trekking crew of Trekking Trail Nepal carries an Adventure medical kit that is not sufficient and relevant to their needs.
The following is a basic list of essential medical kit items that should cover the most common ailments that affect trekkers, rafters, kayakers, and climbers. Expeditions and trekkers going to isolated areas will require a more comprehensive kit.
Wilderness  First Aid Kit
Ankle bandage

Bandages/plasters

Iodine or water filter (optional)

Moleskin/Second skin – for blisters

Antiseptic ointment for cuts

Anti-bacterial throat lozenges (with antiseptic)

Aspirin/Paracetamol – general painkiller

Oral rehydration salts

A broad-spectrum antibiotic (norfloxacin or ciprofloxacin)

Anti-diarrhoea medication (antibiotic)

Diarrhoea stopper (Imodium – optional)

Antibiotic for Guardia or similar microbe or bacteria

Diamox 250/500mg (for altitude sickness)

Set of sterile syringes (anti-AIDS precaution)

Cleaning gel.