Female Trekking Guide in Nepal
Female Trekking Guide in Nepal
Female Trekking Guide in Nepal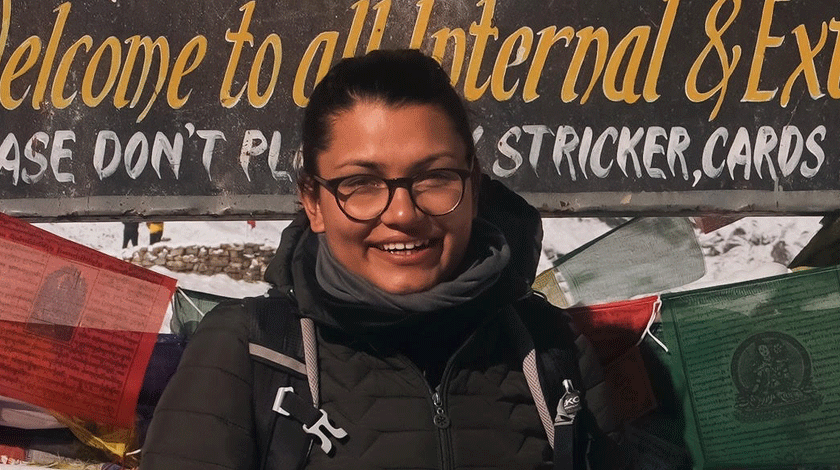 Female Trekking Guide in Nepal
Abinta Raut is an Expert Female Trekking guide in Nepali mountain hike destinations, She does lead both male and female travelers in any trekking destinations of Nepal. Guide Abinta Raut is familiar with Annapurna base camp, Tamang heritage trails, Everest base camp, Poon hill, and Mardi Himal trek, She is so intimate with these trekking regions including the Langtang valley Trek. Guide Abinta Raut is a fluent English-speaking Government training license holder and Expert Female guide who has all-around skills in trekking, Mountain climbing,  Rock climbing, Rafting, and kayaking. 
There is no doubt that trekking in Nepal with a Female guide For the comfort of single female travelers is one of the most exciting adventures. It is possible to enjoy a wide range of joyful trekking opportunities in Nepal's high Himalayas, such as beautiful mountains, ancient monuments, diverse cultures, and a variety of beautiful heritage sites. These factors attract a large number of the world's female adventure enthusiasts. As there is an increasing number of female tourists trekking in Nepal, the demand for female guides is also on the rise. However, compared to the number of male trekking guides, the number of female trekking guides is almost negligible.
Since 2019, Abinta Raut is working for Nepal Wilderness trekking team as an Expert Female Trekking guide, her English is fluent for communists and brief for Nepal trekking regions' pieces of information, cultures, geography, history, diverse culture and traditions, flowers, and fauna. 
The female trekking guides will be a perfect companion for female travelers, as they can share common feelings and better understand each other during the trip. Previous our customers who did a trek with her, it was very much appreciated, and enjoyed their trek with Guide Abinta Raut. 
If there is anyone planning to do a Solo or group trek with a female guide, then Abinta Raut is the perfect female trekking guide of the Nepalese Himalayas. if you are planning to do trekking in Nepal. Please hold Abinta Raut as your guide. In addition, if you hire a female trekking guide while trekking in Nepal, you will create employment opportunities and empower women to become financially independent, self-sufficient, and self-confident. By creating an independent working environment for women, the female trekking guide services aim to empower women.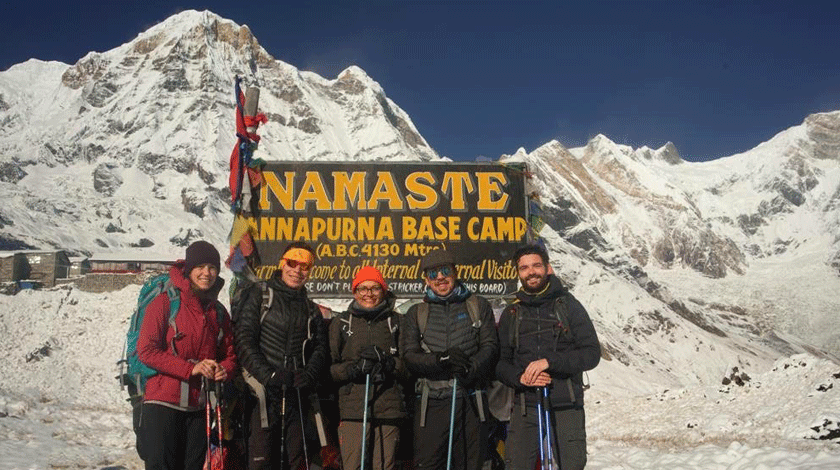 We are pleased to announce that our female trekking guide, Abinta Raut, has recently completed two days of wilderness first aid medicine training, which is very important when doing wilderness trekking in remote areas.
It is not uncommon for Nepal trekking guides to undergo Wilderness First Aid training, as part of the appeal of outdoor adventures is the opportunity to unplug and enjoy quiet time in the Nepalese Himalayan Wilderness area trekking, away from the city. In addition, since you will be farther away from emergency responders and urgent care clinics, it is essential that you are familiar with wilderness first aid. Consider it as an opportunity to become more capable and self-sufficient.
Most outdoor incidents are minor and easily treatable. Providing aid in the wilderness involves preventing a condition from worsening in order to continue your Nepal adventure Wilderness area trek or climbing on the mountain. In spite of this, it is important to be prepared for any eventuality. In a wilderness first-aid course, you will learn how to evaluate a patient, which involves the following steps.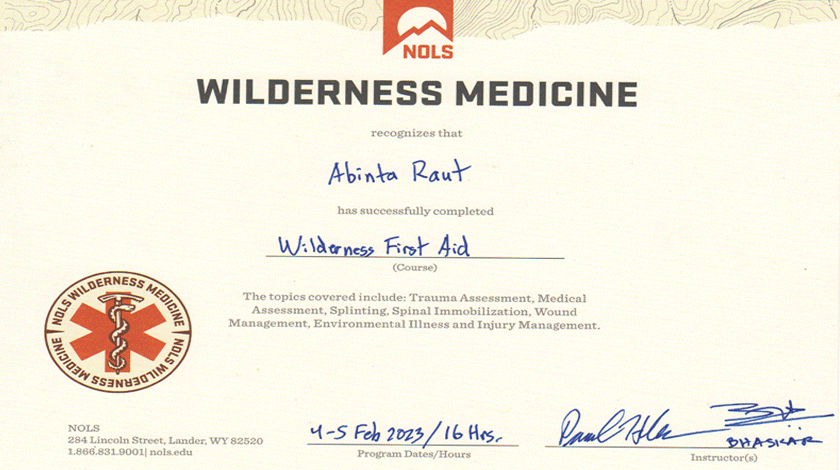 Nepal's tourism sector plays a crucial role in the overall development of the country's economy. Additionally, it is necessary to empower women in the trekking tourism field. Due to a male-dominated society, women's entrepreneurship is not seen as often as men's. The majority of women in rural areas are involved in household activities. As part of the tourism industry, specifically in the trekking field, Abinta is taking one step forward by pursuing a career in trekking guiding.
Trekking in Nepal with a female guide creates employment opportunities and enables women to become financially independent, and self-sufficient, and builds self-confidence. The main objective of the female trekking guide services is to empower women by providing them with an independent working environment.
Empowerment: Hiring a female trekking guide can help empower women in Nepal and support gender equality. In a male-dominated industry, providing opportunities for female guides can help challenge traditional gender roles and increase opportunities for women in the workforce.
Cultural sensitivity: Female guides can offer a unique perspective on the local culture and customs, particularly for female travelers. They can provide valuable insight and advice on local customs, dress codes, and appropriate behavior, which can be particularly important in more conservative areas.
Safety: Female guides can provide an added level of safety and security for female travelers, particularly when traveling solo. They can provide reassurance and guidance, particularly when navigating unfamiliar areas or situations.
Communication: Female guides can often communicate more effectively with local women, particularly those who may not speak English. This can help facilitate more meaningful interactions and connections with the local community.
Experience: Many female guides in Nepal are experienced and knowledgeable about trekking and the local area. They can provide valuable advice and insights, particularly for female travelers who may have different needs and considerations than male travelers.
Overall, hiring a female trekking guide in Nepal can be a great way to support gender equality, enhance your travel experience, and connect more meaningfully with the local community.
if you are looking for a professional female trekking guide for your journey in Nepal. We will provide you with an export female guide for your trip to Nepal. please Contact us and secure your Expert Female Trekking Guide. Particularly for single female travelers Having a better understanding of potential problems during the trek.
---