Diku Sherpa Female Trekking Guide
Diku Sherpa Female Trekking Guide
Diku Sherpa Female Trekking Guide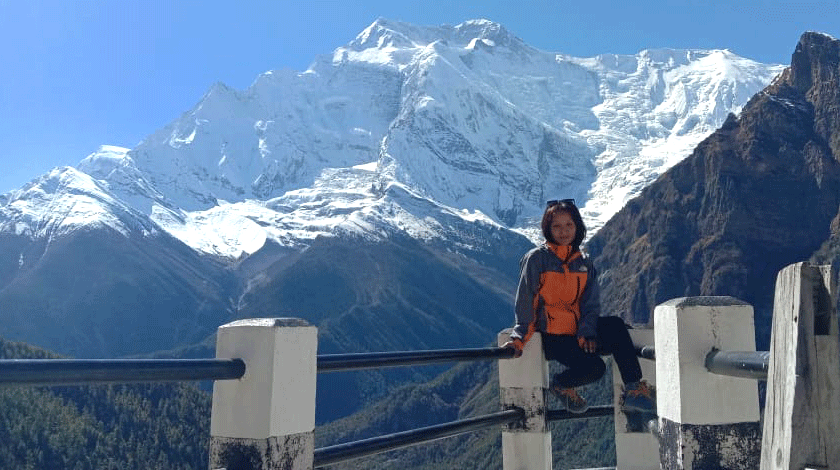 Diku Sherpa Female Trekking Guide from Okhaldhunga
When it comes to exploring the stunning landscapes of Nepal, having a knowledgeable and experienced trekking guide can make all the difference. Diku Sherpa, hailing from Siddhicharan 6 in Okhaldhunga, is a remarkable female trekking guide who can turn your trekking adventure into a memorable and safe journey. With her official training from the Ministry of Government Tourism Office and a valid license (License Number 20234), Diku Sherpa is the perfect companion to guide you through the breathtaking trails of Nepal.
Diku Sherpa: A Brief Introduction
Diku Sherpa was born and raised in the picturesque village of Siddhicharan 6 in the Okhaldhunga district of Nepal. Growing up surrounded by the majestic Himalayan mountains, she developed a deep love and respect for nature from a young age. Her passion for trekking and her desire to share the beauty of her homeland with others led her to become a certified trekking guide.
Professional Training
In 2022, Diku Sherpa underwent rigorous training provided by the Ministry of Government Tourism Office, Nepal. This comprehensive training program covered various aspects of trekking and tourism, ensuring that she is well-equipped to provide a safe and enjoyable experience for her clients. Diku's dedication and commitment to learning are evident in her ability to navigate challenging terrains, manage unforeseen situations, and provide valuable insights about the culture and environment of the region.
License Number 20234
Diku Sherpa is a licensed trekking guide with License Number 20234. This official certification ensures that she meets all the required standards set by the government, including safety measures, first aid training, and knowledge of local regulations. When you choose Diku as your trekking guide, you can have peace of mind knowing that you are in the hands of a certified professional.
Why Choose Diku Sherpa as Your Trekking Guide?
Local Expertise:
One of the key advantages of hiring Diku Sherpa as your guide is her intimate knowledge of the region. Being a native of Okhaldhunga, she has spent her entire life exploring the trails and villages in the area. Her deep understanding of the local culture, traditions, and hidden gems ensures that you will have an authentic and immersive experience during your trek.
Safety First:
Diku Sherpa prioritizes your safety above all else. Her training includes first aid and emergency response protocols, and she is well-prepared to handle any unexpected situations that may arise during your trek. Whether it's altitude sickness, changing weather conditions, or minor injuries, Diku has the knowledge and skills to keep you safe.
Customized Itineraries:
Diku understands that every trekker has unique preferences and goals. She will work closely with you to create a customized itinerary that suits your interests, fitness level, and schedule. Whether you are a novice trekker or an experienced mountaineer, Diku will plan a trek that caters to your specific needs.
Environmental Awareness:
Diku Sherpa is deeply committed to preserving the natural beauty of Nepal. She practices Leave No Trace principles and encourages responsible trekking practices among her clients. By choosing Diku as your guide, you contribute to the sustainable development of the region and help protect its pristine environment.
Language Proficiency:
Communication is crucial during a trek, and Diku is fluent in multiple languages, including English. This ensures that you can easily communicate your needs, questions, and concerns throughout your journey. Diku's language skills facilitate a smooth and enjoyable trekking experience.
Trekking Destinations with Diku Sherpa
Diku Sherpa is familiar with guided treks to a wide range of stunning destinations across Nepal. Some of the popular trekking routes that you can explore with her include: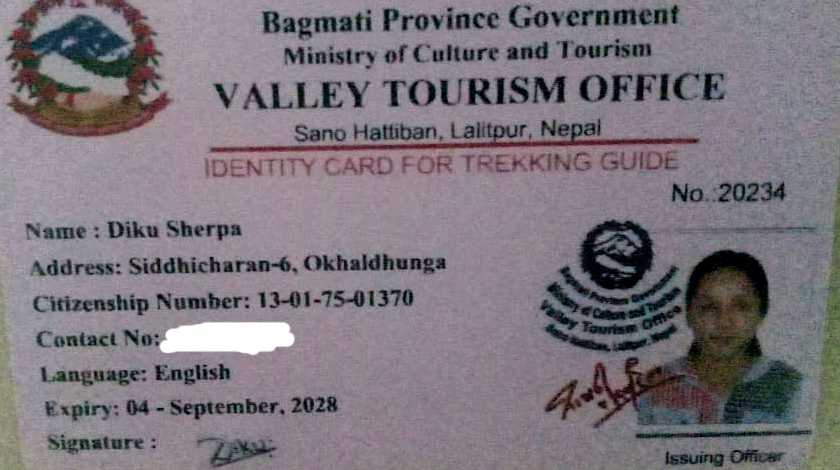 Testimonials from Satisfied Trekkers
Sarah H., USA: "I had the privilege of trekking with Diku Sherpa to Everest Base Camp, and it was an unforgettable experience. Her knowledge of the region, attention to safety, and warm personality made the trek truly special. I highly recommend Diku as a guide."
Mark L., Australia: "Diku's expertise and passion for the mountains are evident in everything she does. She made our Annapurna Circuit Trek an incredible adventure. Her ability to connect with the local communities enriched our cultural experience."
Maria S., Spain: "I was initially concerned about the language barrier in Nepal, but Diku's fluent English made communication easy. She made sure we had everything we needed and provided valuable insights into the local culture. I couldn't have asked for a better guide."
Conclusion
If you're planning a trekking adventure in Nepal and want a knowledgeable, experienced, and safety-conscious guide, Diku Sherpa is the perfect choice. With her local expertise, professional training, and commitment to responsible tourism, she will ensure that your trek is not only enjoyable but also a culturally enriching experience. Start on a journey with Diku Sherpa, and you'll discover the hidden treasures of Nepal's breathtaking landscapes while forging unforgettable memories. Get in touch with Diku today to plan your next adventure in the heart of the Himalayas.
---