Kyanjin Gompa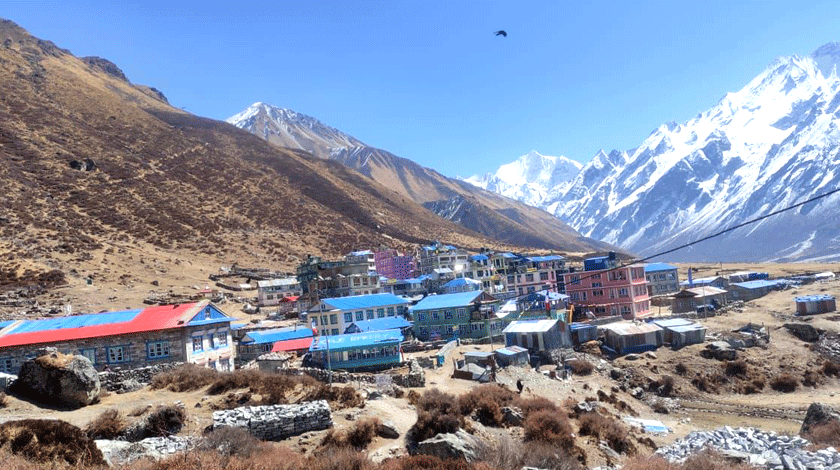 Kyanjin Gompa is an Acclimatization Hub for Trekkers and Climbers
Nestled deep in the Langtang Valley, Kyanjin Gompa is a remote and tranquil village that marks the last stop for trekkers on the popular Langtang Trek in Nepal. As the final accommodation point along this breathtaking journey, Kyanjin Gompa offers a unique blend of natural beauty, cultural richness, and a serene atmosphere that makes it a memorable destination for adventurers. It is not only a trekker's haven but also an acclimatization hub for climbers embarking on challenging ascents and treks to Yala Peak, Gangchempo Peak, Ganjala Pass, and Tilman Pass.
Acclimatization and Base Camp for Climbers:
Kyanjin Gompa plays a crucial role in acclimatizing climbers before they take on the formidable Yala Peak and Gangchempo Peak, both of which are prominent mountains in the Langtang region. These mountains present considerable technical and altitude challenges, and Kyanjin Gompa serves as a comfortable base camp to prepare for these expeditions. Trekkers and mountaineers often spend a few days here to acclimatize to the high-altitude conditions before making their ascent.
Yala Peak Ascent:
Yala Peak, at an elevation of 5,732 meters (18,806 feet), is a popular trekking peak and a perfect introduction to high-altitude climbing for those with moderate experience. Climbers in Kyanjin Gompa can arrange for guided expeditions to this summit and experience the thrill of conquering a Himalayan peak.
Gangchempo Peak Challenge:
Gangchempo Peak, towering at 6,387 meters (20,955 feet), is a more technical climb and requires prior mountaineering experience. The journey from Kyanjin Gompa to the base camp of Gangchempo Peak is both challenging and rewarding, offering trekkers and climbers stunning views of the surrounding mountains.
Gateway to Ganjala Pass and Tilman Pass Trek:
Kyanjin Gompa serves as a pivotal point for trekkers heading towards Ganjala Pass and Tilman Pass. The challenging trek to Ganjala Pass at 5,122 meters (16,810 feet) and Tilman Pass at 5,200 meters (17,060 feet) requires acclimatization and careful planning, both of which can be accomplished in the village. Trekkers looking for a remote and less-traveled route find the Ganjala Pass and Tilman Pass trek immensely satisfying as they navigate rugged terrain and pristine landscapes.
Final Thoughts:
Kyanjin Gompa is not only the last accommodation point for trekkers on the Langtang Trek but also a strategic acclimatization hub for mountaineers and trekkers pursuing challenging objectives like Yala Peak, Gangchempo Peak, Ganjala Pass, and Tilman Pass. The village's serene beauty, cultural richness, and comfortable accommodations make it a memorable stop for those on their journey to explore the Langtang region's natural wonders and test their mountaineering and trekking skills. It truly serves as a gateway to adventure in the Himalayas.
---