Abby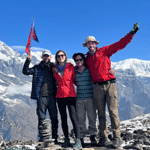 On our hike to the Mardi Himal, we had a great time. As our guide, Bishal was fantastic. In fact, he is the best guide that I have ever had in Nepal. He is a passionate and engaging individual, and if you want to, you can learn a great deal about Nepalese culture, politics, wildlife, language, and traditions. The conversations I had with Bishal as a Ph.D. student studying here were fascinating beyond the beauty of the hike. Porter Anil was friendly and kind. Like most porters, he made it look easy to us! In-between the two of them, we had an exceptional experience of Nepali hospitality, kindness, and humor. The Himalayas are tough to climb and the accommodation along the way is quite basic, but if you have an open mind, you will soon fall in love with Nepal and the Himalayas and come back again and again.
There is a sharing jeep from siding on the last day of Mardi Himal, which means you have to wait for other people who take the journey and fill up the Jeep. The reason we arrived at the time we did (i.e not in the morning) meant there was no one to join and we would have had to pay the difference of about 20 dollars for the journey. This was something that should have been explained better in the itinerary. However, this issue was resolved by Himal, who covered the difference. He was easy to contact and very accommodating. He also advised me on how and when to take the Diamox as I usually experience altitude sickness and this time I did not.
It is possible to do these routes without a guide, but the Himalayas are unpredictable, and you never know when something unexpected might happen, so having local guides is a must! Great value for money and we can't wait to hike with Bishal again!