Bhawana Bhandari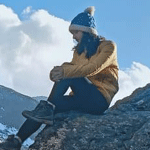 Greetings, everyone!
My name is Bhawana Bhandari, and I come from the enchanting region of Achham 6 Kamal Bazaar. It is with great joy and pride that I serve as a female guide for Nepal Wilderness Trekking Pvt. Ltd. since 2020. Holding a prestigious Government trekking license No 19640, I am authorized to lead treks in some of the most remarkable regions of Nepal.
I have had the privilege of exploring and embracing the awe-inspiring beauty of the Annapurna, Langtang, and Everest regions. Each of these regions holds a unique allure, from the breathtaking mountain vistas to the rich cultural heritage that captivates the hearts of trekkers worldwide.
Being a female guide, I believe in breaking barriers and inspiring other women to pursue their dreams in the trekking industry. By demonstrating my expertise and passion, I hope to empower and encourage more women to embrace this extraordinary field. Together, we can redefine the boundaries and create a more inclusive and diverse trekking community.
Guiding is more than just leading treks; it is an opportunity to share the rich tapestry of Nepalese culture, history, and traditions. I strive to create a warm and welcoming environment for my clients, ensuring that their journey is not only adventurous but also deeply enriching. Your safety, comfort, and satisfaction are my utmost priorities.
As I continue my journey as a female guide, I am committed to providing you with memorable experiences that will stay with you for a lifetime. With Nepal Wilderness Trekking Pvt. Ltd., we embark on remarkable treks, fostering a deep connection with nature, immersing ourselves in local communities, and creating lasting memories.
Join me on this extraordinary adventure, where we explore the majestic Annapurna, Langtang, and Everest regions. Let us together discover the hidden treasures and bask in the wonders that Nepal's diverse landscapes have to offer.
Thank you for considering Nepal Wilderness Trekking Pvt. Ltd. as your companion on this incredible journey.
Namaste and I eagerly await the opportunity to guide you through the breathtaking landscapes of Nepal.