Narbin Magar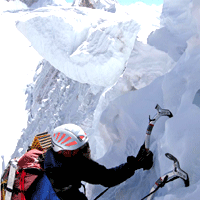 Narbin Magar stands as an experienced climbing guide, renowned for his expertise in conquering the magnificent mountains of Nepal. Born and raised in the breathtaking Solukhumbu District, he has developed an intimate bond with the Himalayas, making him an ideal guide for those seeking thrilling climbing adventures.
Working with Nepal Wilderness Trekking Pvt. Ltd., Narbin has earned a reputation as one of the best climbing guides in the region. His extensive mountaineering experience and deep knowledge of the Nepalese peaks have garnered immense respect among his peers and clients alike. Narbin's dedication to his craft and his client's safety is unwavering.
Having tackled almost all of the remarkable peaks in Nepal, Narbin boasts an impressive climbing record. With the mighty Mount Everest summited twice, he has stood on top of the world and felt the exhilarating rush that only such an achievement can bring. In addition to Everest, Narbin has conquered other notable peaks, including Mt. Pumori, Yala Peak, Chilu Far East, Mera Peak, Island Peak, and Pachermo Peak. These successes have solidified his reputation as an accomplished mountaineer.
Narbin's commitment to his craft is evident through his continuous pursuit of knowledge and skills. He has completed advanced ice climbing training, Khumbu ice training, advanced wilderness first aid training, and technical ruck training. These endeavors have equipped him with the necessary expertise to navigate challenging terrains, ensuring the safety and well-being of those under his guidance.
For those seeking a thrilling climbing experience in Nepal, Narbin Magar is an exceptional choice. With his in-depth understanding of the mountains, technical prowess, and unwavering dedication, he promises to make your climbing journey both memorable and safe. He will lead you through the awe-inspiring landscapes of the Himalayas, sharing his love for the mountains and the rich cultural heritage of Nepal along the way.
Embark on your favorite peak-climbing adventure in Nepal with Narbin Magar as your guide, and prepare to be enchanted by the beauty and majesty of the Himalayas. With his guidance, your climbing dreams will transform into awe-inspiring realities.
Welcome to Nepal, where extraordinary mountains and unforgettable experiences await!
Namaste!