Pokhara to Poon Hill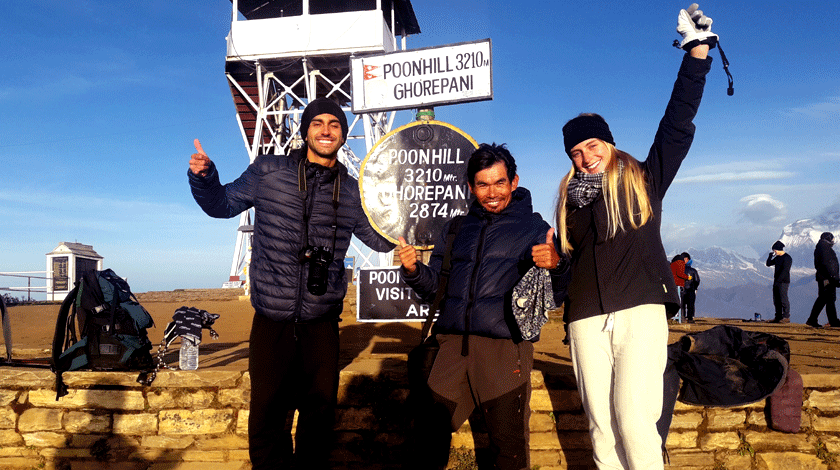 Pokhara to Poon Hill Distance
The distance from Pokhara to Poon Hill is 62 km/38 miles in total. The road distance is 44 kilometers from Pokhara Nayapul, and the hiking distance between Nayapul and Poon hill is 22 kilometers. As the 22 km hike cannot be done in one day due to the ascent trekking routes, a night must be spent in Tikhedhunga or Ulleri. The Ulleri to Ghorepani distance is 15 km.
Poon Hill Trek is one of the most charming treks in the Annapurna region. Additionally, it is one of the most effective ways to view panoramic views. A short trek distance, the Annapurna region offers a view of several mountain peaks such as the Annapurna massifs, Nilgiri, Dhaulagiri, Himchuli, Tukuche, and others. Describe the geographical area.
You will have a great opportunity to explore the culture, tradition, and religion of several ethnic groups such as Brahmins, Chettries, Gurungs, and Magars. You can get a sunrise view from the top of Poon Hill Trek, There are several hot springs to be found. On the way, you can also see cataracts, different species of animals and birds, and rhododendron jungles.
Ghorepani to Poon Hill distance is 1.5 km 0.9 miles. hiking time requires 1 hour of ascent.
On the third day from Ghorepani to Poon Hill, Early in the morning, we put on warm clothes and climb up to Poonhill (3210m). As we will pick up our main rucksacks later, we do not need to take much with us. Poonhill (3210m) is about an hour away by foot.
You will see the best sunrise and magnificent view of the Himalayas like Annapurna South, Bahari Shikhar, Hiuchuli, Nilgiri, Dhaulagiri ranges, Tukuche peak, Annapurna I, II, III, IV, Lamjung Himal, Mt.Manaslu ranges, Machhapuchhre (Fishtail), and others mountains. After this unforgettable view, we come back to Ghorepani for breakfast. Trek to Pokhara.
Relate Trek around the Poon Hill
Poon Hill Trek Itinerary
Day 01: Take a drive from Pokhara to Nayapul and trek to Tikhedhunga
Day 02: From Tikhe Dhunga to Ghorepani
Day 03: Visit Poon Hill morning time and back to Pokhara
Poon Hill Trek Routes
It starts with a scenic drive from Pokhara to Nayapul, the starting point of Pon Hill trekking. On your way to Ghorepani, you will pass Tikhedhunga as you continue your trekking route. In Ghorepani, 3,194 m above sea level, there is a beautiful Gurung settlement before you reach Poon hill.
The height of Poon Hill is 3,210 meters. From the vantage point along the axis of Dhaulagiri and the Annapurna range, you will be able to witness the beautiful morning sunrise. After crossing Tadapani and trekking towards Ghandruk, you go to Nayapul to catch a drive. The trek will conclude with a retrace of the earlier route.
Time to travel from Kathmandu to Pokhara
From Kathmandu, there are three ways to reach Pokhara. You can travel by bus, plane, or private car/jeep.
Taking the plane involves a 30-minute flight. side Fewa Lake in Pokhara for breakfast on time if you take the first flight in the morning in clear weather.
By private vehicle, including stops, it will take you around 7 hours. A private vehicle gives you the flexibility of starting later in the morning if you want (but it's better to leave early) and stopping where you want for pictures, etc. By tourist bus (normal or deluxe), it will take you 7-8 hours, including stops. Around 7 am, tourist buses leave Kathmandu.
Travel distance from Pokhara to Nayapul
The adventure begins in Pokhara, but the real trek begins at Nayapul. Nayapul is 45 kilometers distance from Pokhara. The road from Kathmandu to Pokhara is better maintained and flatter. Nayapul can be reached from Pokhara in 1.5 to 2 hours on average. Public buses and private vehicles are both options for getting there.
How to get to Nayapul from Pokhara?
There are local buses every 14 minutes departing from Baglung bus park to Nayapul, it takes a 2-hour drive from Pokhara to Nayapul and if you hire a private car or taxi then it takes one hour drive.
Private vehicles will take around 1.5 hours to reach Nayapul from Pokhara. Consider leaving a little later in the morning and enjoying a leisurely one. Please do not leave Pokhara too late because there is a walk of around 4 or 5 hours after getting to Nayapul. Having your own transport also means you can drive straight to Tikhedhunga, eliminating the first day's walking. Every hour, a public bus leaves. Nayapul is two hours away from Pokhara.
Ghandruk to poon hill distance:
The distance between Ghandruk and Poon Hill in Nepal is approximately 15.1 kilometers or 9.3 miles. The trek from Ghandruk to Poon Hill usually takes one night two days hike The trek offers beautiful views of the Annapurna mountain range and passes through several small villages and lush forests. It is a popular trekking route in Nepal and can be done independently or with the help of a guide or porter.
Poon Hill Trekking Walking Hours
This is a relatively easy trek for the Himalayas, daily walking is 10 to 11 Km in six hours.
This trek can be done over 3, 4, or 5 days. On the other hand, I recommend taking on the 5-night trek, as it allows you more access to nature, the mountains, local communities, and personal reflection at a low altitude.
Is there a possibility of altitude sickness?
Poon Hill trekking is a low-altitude trek. As you will only climb up to 2855m, you will not experience high altitude sickness.
Does Poon Hill Trekking require a certain level of fitness?
There is no fitness level requirement since this is one of the easier treks in the Annapurna region. Trekking hours are usually 4-5 hours per Anyone with a moderate level of fitness can take part in this trek of fitness.
What is the location of Poon Hill?
There are several trekking routes in the Annapurna Trekking Region that pass through Poonhill. The area is part of the Annapurna Conservation Area Project.
What documents are needed for the Ghorepani Poon Hill Trek?
It is necessary to have a passport that has a validity of up to 6 months. The Nepal Visa can be obtained through an embassy or upon arrival. Having emergency contact numbers and carrying cash
Are meals provided during this trek?
Breakfast and dinner are served in the lodge while lunch is served in the restaurant. Other options include Dal Bhat, Noodles, soup, and Momo. Soft drinks and beer are available in Tea Houses.
For more info
WhatsApp: +9779849693351
E-mail: himalghale99@gmail.com
---