Tsergo Ri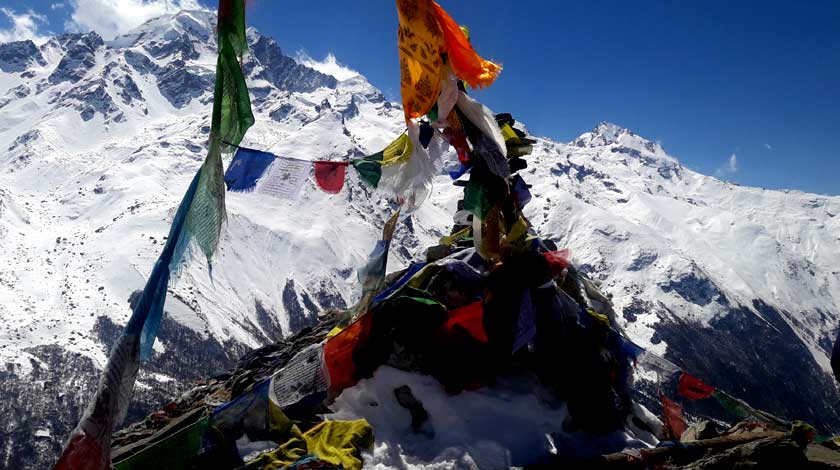 Tsergo Ri peak is in the Langtang valley trekking Region which is rise 5033 m. above the sea levels, the magnificent Langtang valley and the Himalayas views capture from Tsergo Ri peak, also same views from Kyanjin Ri, the Kyanjin RI is close to the Kyanjin Gompa, it is just 2 hours hike from  Kyanjin Gompa, and it rises 4773 m. But to walk Tserko Ri is 5 hours to the summit and 3 hours back to Kyanjin Gompa. You have to carry Packed Lunch from your tea house where you stay in Kyanjin Gompa for the day hike to this peak.
Views from Tsergo Ri are closely seen Yala peak 5,520 m, Langtang Ri 7,205 m. Langtang Lirung 7,227 m, Naya Khang 5,844m. To do Langtang Valley Trek is a golden opportunity to summit Tsergo Ri peak and Kyanjin Ri, these trekking itineraries are 7 days from Kathmandu to Langtang valley trek and back to Kathmandu, though if you have more time then can add Tamang heritage trail trekking and also the Gosaikuda trek.
The trekking area also more beautiful compared to the other trekking region, this region has Specially inhabited Sherpa and Tamang indigenous peoples who are Buddhism followers, They come from Tibet's long time ago via the Kerong border. Tsergo Ri called Tserko Ri too by locals peoples also the map has both names Tsergo Ri and Tserko Ri, but it is the same peak either you call Tsergo Ri or Tserko Ri. if any ones planning the Langtang valley trekking, then please feel free to contact us, we lead with locals guide of the Langtang region, who know more about this areas mountain, peoples, cultures, flower & fauna.
DETAIL ITINERARY
Day 01: Drive by local bus Kathmandu – Sybrubensi
Day 02: Trek to Lama Hotel
Day 03: Trek to Langtang
Day 04: Trek to Kyanjine Gomba
Day 05: visit Tserko Ri peak
Day 06: Trek back to Lama Hotel
Day 07: Trek to Syabru Bensi
Day 08: Drive by local bus back to Kathmandu
Himal Ghale
Leave a Comment