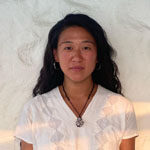 It was an amazing experience trekking the EBC route with my friend (whose lifelong dream was to trek EBC), our wonderful guide Abinta, and our sweet porter Ram Bai. We connected well with our female guide and had many laughs together. It was such a pleasure to have a female guide. We also felt more comfortable sharing certain issues/details with her and asking for advice. We received great care from her- she organized our accommodations, meals, and itinerary, and even took good care of us when we became ill. Our porter, Ram, was a really nice guy who carried our gear without complaint and was easily embarrassed by all the jokes we told him.
Our goal of reaching EBC was reached with good weather and beautiful views of the Himalayas.
Wishing Himal, Abinta, and Ram.