Rajesh Gurung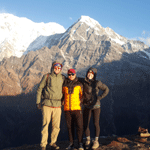 Namaste!
I am Rajesh Gurung, and it is a pleasure to introduce myself as a dedicated trekking and hiking guide from Katunje-Hajaare village in Dhading, Nepal. Since 2008, I have been actively involved in the trekking industry, starting as a porter for two years before transitioning into a guide in 2012. I am proud to say that I have been a part of the Nepal Wilderness Trekking team since 2004.
As a certified trekking and hiking guide, I specialize in high passes and adventure trekking destinations. Having grown up in a remote village in the Nepalese Himalayas, I have firsthand experience of living amidst the awe-inspiring mountains. This deep connection fuels my passion for guiding and allows me to share my knowledge and appreciation for the Himalayan landscapes with trekkers from around the world.
Fluency in English enables effective communication with my clients, ensuring that we understand each other and can connect on a deeper level. I firmly believe that our mountains are treasures worth exploring, and I take great delight in helping trekkers fully immerse themselves in the beauty of these majestic landscapes. However, above all else, your safety is my top priority. To ensure your well-being, I have undergone High Mountain First Aid training, equipping me with the necessary skills to handle any unforeseen circumstances that may arise during our treks. My clients have consistently appreciated this aspect, as it enhances their overall experience and instills confidence throughout the journey.
Your journey with me goes beyond admiring the natural beauty of Nepal's mountains. It is an opportunity to embrace the local culture, gain insights into the Himalayan way of life, and forge unforgettable memories along the trails. I am committed to providing a safe, enjoyable, and immersive experience, allowing you to connect with both nature and the local communities.
I am excited to guide you through the wonders of Nepal, ensuring that your trekking adventure is truly remarkable. Together, we will explore hidden gems, witness breathtaking vistas, and create memories that will last a lifetime.
Thank you for choosing me as your guide, and I warmly welcome you to Nepal, the land of majestic mountains and captivating experiences.
Namaste and see you soon!
Rajesh Gurung