Ramechhap to Lukla flight
Ramechhap to Lukla flight
Ramechhap to Lukla flight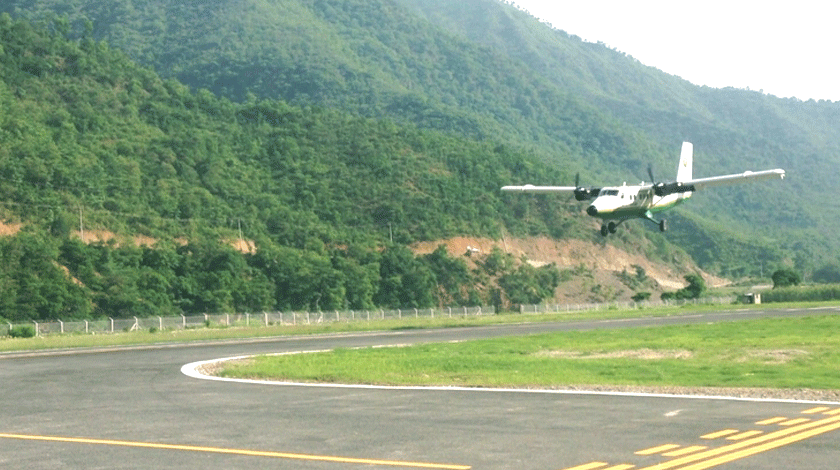 Ramechhap to Lukla flight tickets book the fast and easy  way
The Ramechhap to Lukla flight is a new route connecting Kathmandu and Lukla. In recent years, Ramechhap Airport has become one of the easiest destinations for Everest Base Camp Trekkers to reach Lukla. The drive to Ramechhap takes four and a half to five hours and the flight from Ramechhap to Lukla 23 minutes.
Ramechhap to Lukla flight going to Updates From Sep 25, 2022, flights to Lukla will be operated via Ramechhap airport. From the 25th of September 2022, all plane flights to Lukla will be operated via Ramechhap due to airport maintenance work and heavy air traffic. Our fixed departure Helicopter flight will operate directly from Kathmandu airport if you would like to fly directly. Heli flight from Kathmandu to Lukla. 
Ramechhap Airport is located closer to Lukla Airport than Kathmandu Airport (Tribhuvan International Airport). As a result, the flight from Ramechhap to Lukla (Manthali to Lukla flight) is much easier. It is also possible to utilize this connection between Kathmandu and Lukla Ramechhap to explore the beauty of three locations with similar but distinct landscapes and vegetation. 
Can I go directly to Lukla from Kathmandu as an alternative option?
You can take a group sharing or private helicopter from Kathmandu domestic airport to Lukla every day. Helicopter flights last 45 minutes, take five passengers and cost $400 per passenger during peak season from Kathmandu airport to Lukla. A private helicopter can cost between $2000 and $2500 for one helicopter if you wish to hire one, Helicopters are only allowed to carry 400 kg plus luggage a maximum of 500 kg. Many people dream of reaching Mount Everest at least once in their lifetime. As you hike upwards in the Everest region, you will stop at Lukla first. From Kathmandu to Lukla (and Lukla to Kathmandu), you can explore the beautiful Lukla town and some uphill regions on Everest by helicopter.
MANTHALI AIRPORT, NAMECHEAP
Ramechhap airport is located at Manthali, the district headquarters of Ramechhap district in Province No. 3. It is located in the Tamakoshi River Valley at an elevation of 474 meters (1,555 feet) above sea level. The Ramechhap Airport is also known as the Manali Airport. It is located 83 kilometers from Kathmandu, the capital city of Nepal. By road, it takes approximately four hours and thirty minutes to travel 154 kilometers to reach there. There is only one runway at Ramechhap Airport, which measures 518 meters (1,699 feet).
The word Ramechhap is a combination of two words 'Ram' and 'CHHAP'. The name Ram refers to a person and the word Chhap refers to a mark. Having an area of 1,546 square kilometers and a population of 202,646, it is one of the most attractive places in Nepal. The major attractions of Ramechhap district are natural heritages such as rivers (Tamakoshi, Sunkoshi, Khimti), Dudh Kunda, Likhu Khola Glacier, peaks (Pathibhara and Numburchuli), Gaurighat cave; cultural and religious heritages including Thodung monastery, Panch Pokhari, Khau Gumba, Kanadevi, and Jata Pokhari; indigenous Kusundas, Junar, elevation variation, and rich mineral resources, including iron, copper, marble, magnetite, and copper. It is possible to observe some of these attractions from the air, some in high amounts and some in low amounts.
RAMECHHAP HOTEL BOOKINGS
Visitors are able to easily reach Ramechhap in order to explore and board a flight to Lukla from there. You can reach there by road from Kathmandu and by air from Lukla. As this is a newly defined area, there are very few basic local hotels and lodges that can be preferred for longer stays.
There is a high level of motivation on the part of the locals to make the place an attractive tourist destination. It is for this reason that the hotel's building is being planned. It is possible to accommodate such hotels with a variety of facilities and services such as luxurious beds, Wi-Fi, hot and cold showers, and so on. It will also be possible to make reservations for hotels in Ramechhap via telephone, email, and the Internet.
As well as building new hotels and lodges, there are some existing ones as well. Although they are not as sufficient as the ones planned, they are eligible to remain. For more information about hotels and hotel bookings in Ramechhap, please contact Nepal wilderness trekking Pvt, who will be more than happy to assist you and answer your questions.
RAMECHHAP LUKLA FLIGHT COST
The following is a list of the places from which the flight takes off and lands, as well as the airlines that are involved in carrying the passengers. In addition, the cost is outlined, which is subject to change according to the seasons and the ratio of flight demand. Depending on your comfort level and time availability, you may book any of these flights from and to Kathmandu. To travel between Ramechhap, and Lukla, this flight is the best option. With mediator Ramechhap, it is considered to be the safest flight for reaching Lukla from Kathmandu.
What is the best way to reach Ramechhap from Kathmandu?
The distance between Ramechhap and Kathmandu is 83 km. However, Nepal's landscape makes the road distance 145 km. Ramechhap can be reached by bus from Kathmandu Thamel dream of a garden, bus leaves at 1 Am night time every day. Getting there will take about 4 hours and 30 minutes.
What is the procedure for booking a flight from Kathmandu to Lukla?
Getting a flight from Ramechhap to Lukla will not be difficult for you, but there will be a small change in the route. Initially, you will travel by road from Kathmandu to Ramechhap and then by flying from Ramechhap to Lukla. A road trip from Kathmandu to Ramechhap takes approximately four hours and thirty minutes, while a flight from Ramechhap to Lukla takes approximately twenty-five minutes.
Which airlines operate Ramechhap to Lukla Flight?
Ramechhap to Lukla and Lukla to Ramechhap flights are operated by Sita Air, Tara Air, and Summit Air. The chart above indicates the departure time and cots. also also have trekking guide and porter services from Lukla to any trek of Everest area. 
Booking services
Kathmandu to Ramechhap sharing bus $30 per person 
Ramechhap to Lukla flight ticket cost $160 per person
Lukla to Ramechhap flight tickets cost $160 per person 
Kathmandu to Lukla sharing helicopter is $400 per person 
Before 25 Sep, flight tickets from Kathmandu to Lukla are $198 per person
For bookings, please contact by Mobile call / WhatsApp at +977 9849693351 E-mails: info@nepalindependentguide.com Person to contact is Himal Ghale.