Kathmandu to Manthali bus
Kathmandu to Manthali bus
Kathmandu to Manthali bus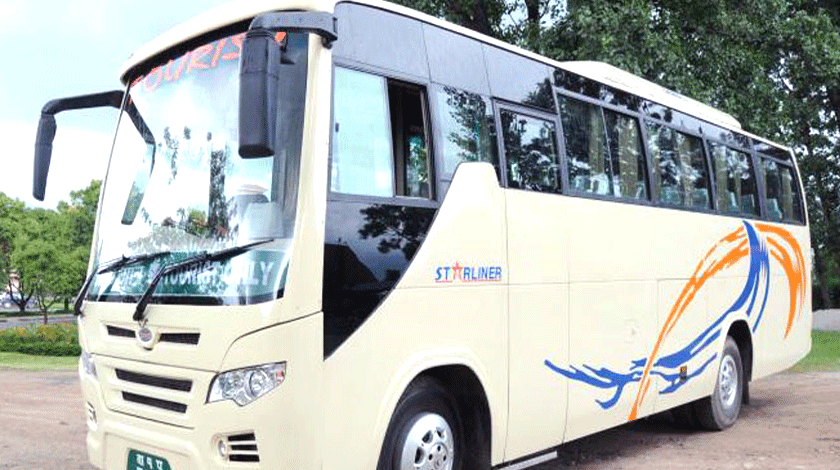 Kathmandu to Manthali bus or Kathmandu to Ramechhap bus means same places drive by tourist bus or car when you going to fly to Lukla for your Everest base camp trek or any corner of the Everest region trek. At peak session time due to Kathmandu airport's busy runway for international flights and not having time to fly for domestic flights to Lukla, after 10 am or later weather can change in the mountain area and flights can be delayed for Lukla. So that the airline agency operates all flights from Manthali airport to Lukla.
For any airline flight to Lukla, you must travel to Manthali airport via shared tourist bus. Manthali Airport is not the closest airport to Kathmandu. It is located in the Ramechaap District of Nepal in Province No.3. From Kathmandu, it takes approximately four hours to reach Manthali Airport. Depending on the needs of our customers, Nepal wilderness trekking provides private jeeps, cars, or shared tourist vehicles from and to Ramechhap and Kathmandu.
Getting from Kathmandu to Ramechhap is quite an adventurous experience. You will bid farewell to the crowd and concrete of Kathmandu for a rustic and rural side of Nepal. The first section is through the six-lane highway to Bhaktapur. Past Bhaktapur, the two-lane road climbs gradually past satellite towns to the Dhulikhel hill station. Here, you leave the Arniko highway and get on the B.P. Koirala Highway. It is also here that the road becomes narrow with a lot of hairpin bends. However, the scenic hills, farms, and villages more than make up for it. For the last half of the ride, you will also get to enjoy the view of the Sunkoshi and Tamakoshi Rivers.
There is only one option among trekkers to travel from Kathmandu to Ramechhap by bus or jeep at 1 am. The reason for this is simple: this arrangement does not add an additional day to your itinerary. When you arrive at Ramechhap by 6:30 a.m., you will have sufficient time to stretch your legs, eat breakfast, and board your flight to Lukla.
From Kathmandu to Ramechhap sharing a bus or jeep, your journey will be quite adventurous. There will be a farewell to the crowds and concrete of Kathmandu in exchange for a rustic and rural side of Nepal. The first section of the journey is on the six-lane highway leading to Bhaktapur. The two-lane road climbs gradually past satellite towns to reach the hill station of Dhulikhel after passing Bhaktapur. At this point, you will leave the Arniko highway and join the B.P. Highway. The road also becomes narrow with a number of hairpin bends here. Nevertheless, the picturesque hills, farms, and villages more than compensate for this. During the last half of the ride, you will also be able to enjoy the view of the Sunkoshi and Tamakoshi rivers.
The following costs and time are intended for vehicle service to Ramechhap. There may be a difference in price depending on the type of vehicle. This cost is intended for tourist buses.
Kathmandu to Manthali distance:
The distance from Kathmandu to Manthali is approximately 132 kilometers (82 miles) if you travel by road. The travel time can vary depending on traffic and road conditions, but it usually takes around 4 to 5 hours by bus or private vehicle. Keep in mind that the distance and travel time may vary depending on the route taken.
---
From Kathmandu to Manthali and Manthali to back Kathmandu
Bus service for tourists on a daily basis
Departure Place:- Dream of Garden Thamel   
Departure Time:- 1 AM (Ktm – Manthali)
Departure Time:- 11 AM (Manthali – Ktm)
Sharing a tourist bus cost $ 30/. per person.
(The capacity of the car is five persons with a driver): The total cost is $150/.
The Jeep can accommodate 7 people with a driver; the total cost is $200/.
A Hiace-Bus with a capacity of 15 passengers and a driver costs $250/.
The flight ticket cost is $ 195/. per person
When you fly to Lukla from Ramechhap / Manthali, if you need a guide or porter for your trek to the Everest area, we will also provide you with a guide and porter for your trek from Lukla since our guides and porters are all based in Lukla during peak season.
The cost of our guide and porters from Lukla:
A: Details regarding the cost of hiring a guide for the Everest base camp trek. The guide wage is U$D 30 per day, the porter wage is U$D 25 per day, and the porter wage is U$D 22 per day, which includes three times meals, accommodations, equipment, insurance, and salary. In the event that you hire a guide service to begin your trek from Lukla, the one-time service fee and government tax will be $30 per person.